Hal Bastian is a 39-year commercial real estate professional, who has been a leader in the Downtown Los Angeles (DTLA) Renaissance since 1994. Fondly called "Mr Downtown" and "Mayor of Downtown" by many, he has helped recruit over 100 restaurants, bars, nightclubs and retailers, including Ralphs, Bottega Louie and Whole Foods, and has facilitated billions of dollars worth of residential and commercial development.
Hal has been at the forefront of the DTLA residential resurgence, starting with his leasing of the Old Bank District, DTLA's first Adaptive Reuse project, where he pioneered a dog-friendly community. He has been instrumental in the construction of over 20,000 residential units and has helped recruit thousands of new DTLA residents.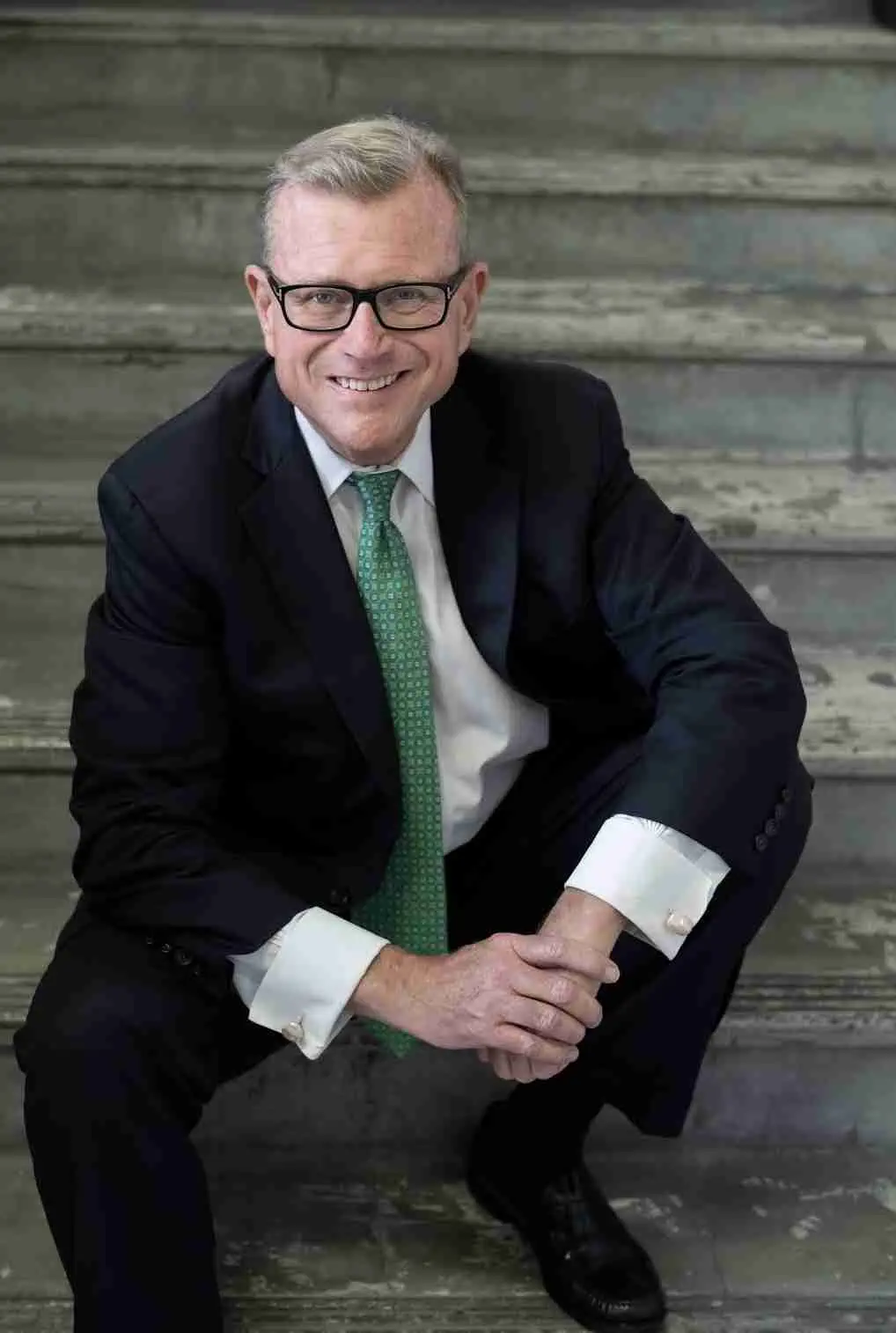 Personally, he has been clean and sober for over 21 years and cares deeply about mental health, drug addiction, alcoholism, and homelessness, and is working to help make incremental positive improvements in all these areas.
Today, Hal is a consultant, commercial & residential real estate broker, professional fundraiser, gives specialty DTLA tours, does team-building, and produces videos which can be seen at halbastian.com and on YouTube. He and his faithful dog, Scooter, live on Spring Street, two blocks south of City Hall.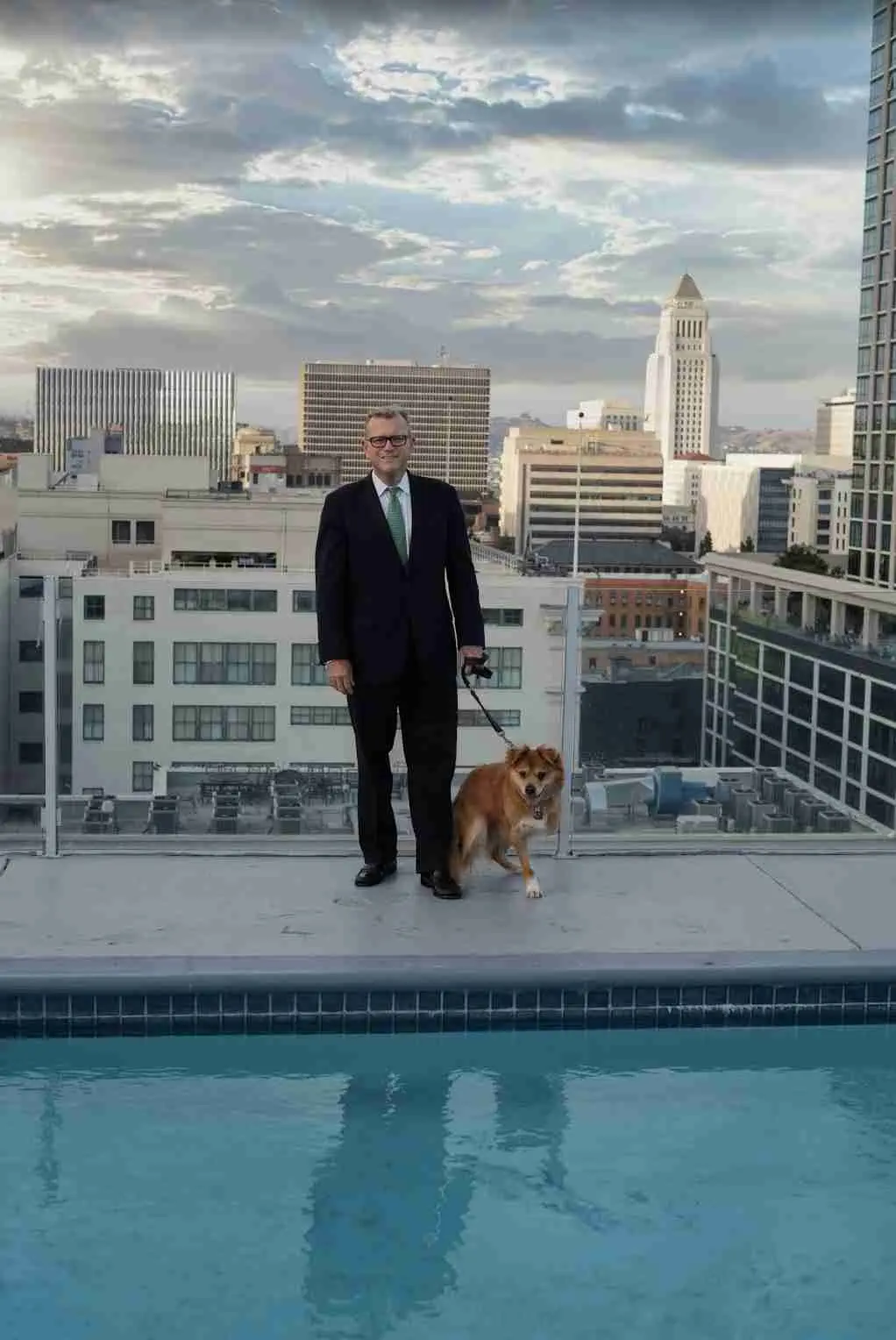 Where are you originally from?
That's actually a very complicated question! My Mom and Dad moved to Los Angeles from Michigan in 1955. In 1959, my Dad's mom was dying of cancer in Northern Michigan, so my parents went back to be with her during her transition. Nine months later, in June of 1960, I was born at Queen of Angels Hospital, right here near Downtown Los Angeles. Today, that building known as the Dream Center, a faith-based recovery program. So, I like to like joke that the "scene of the crime" was Northern Michigan but I was born in Downtown Los Angeles!
Tell us about your upbringing:
My Dad was a cable splicer for AT&T and my Mom was a stay at home housewife, until I went to kindergarten in 1965. We lived in Northridge, out in the San Fernando Valley, about two blocks from San Fernando Valley State College, which is now known as Cal State University, Northridge. I'm an only child, went to public schools and I was the drum major of the Granada Hills High School marching band from 1977 to 1978. We won the all -city band and drill team championship that year and John Elway, who's a year my junior, was our football quarterback , so we won all our games!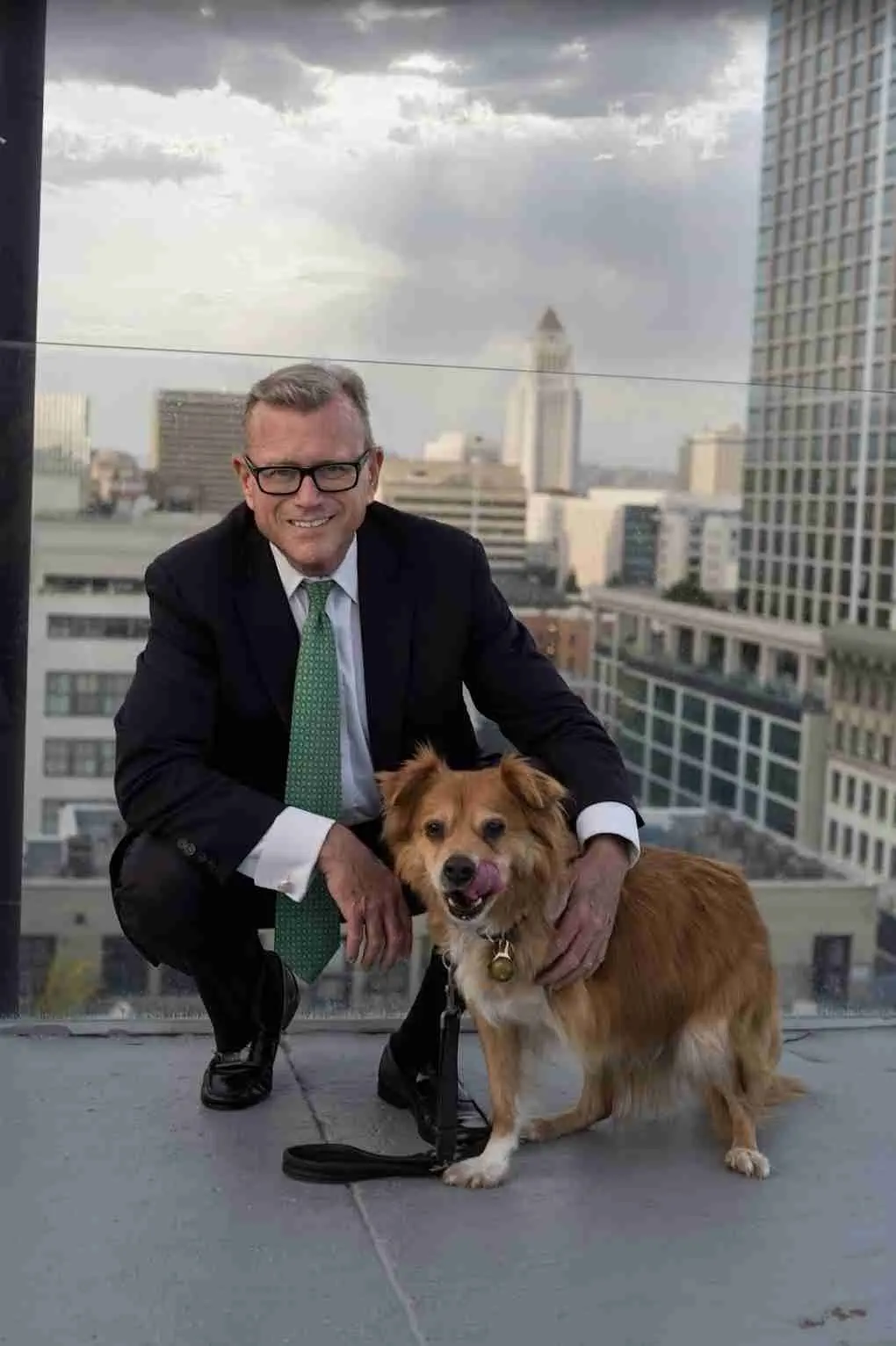 You have been called the Mayor of Downtown LA, but you call yourself the butler of downtown. Explain:
In the 1960s, there was a TV show called "Family Affair." In it, there was a butler named Mr French who took care of the family and I just loved that. I'm a Cancer, so we're naturally nurturing and we love we love home and helping other people and, most importantly, we like being in charge! So, I view DTLA as my mansion and I'm here to help everybody in it, so that's why I think of myself as the Butler of Downtown LA.
How has downtown changed since you first moved here?
When I got to Downtown LA in September of 1994, it was like a big office park. People came to work and then they left to go home. In fact, on my first day on the job at Cushman & Wakefield when I came out onto the street about 6:00pm, there was nobody there. I thought the rapture had happened and they forgot to take me! The residential population back then was about 18,000 people. Today, it's over 86,000 people. DTLA has gone from being a place that nobody wanted to be, to a vibrant urban center again, with restaurants, bars, nightclubs, grocery stores, culture, sports and entertainment, residents, bustling streets and sidewalks with lots of pedestrians and dogs. I've made my career helping to bring Downtown back and making it a place that people want to be. I like to say the DTLA Renaissance is an overnight wonder I've been working on since 1994. DTLA got whacked by the pandemic, but we're coming back!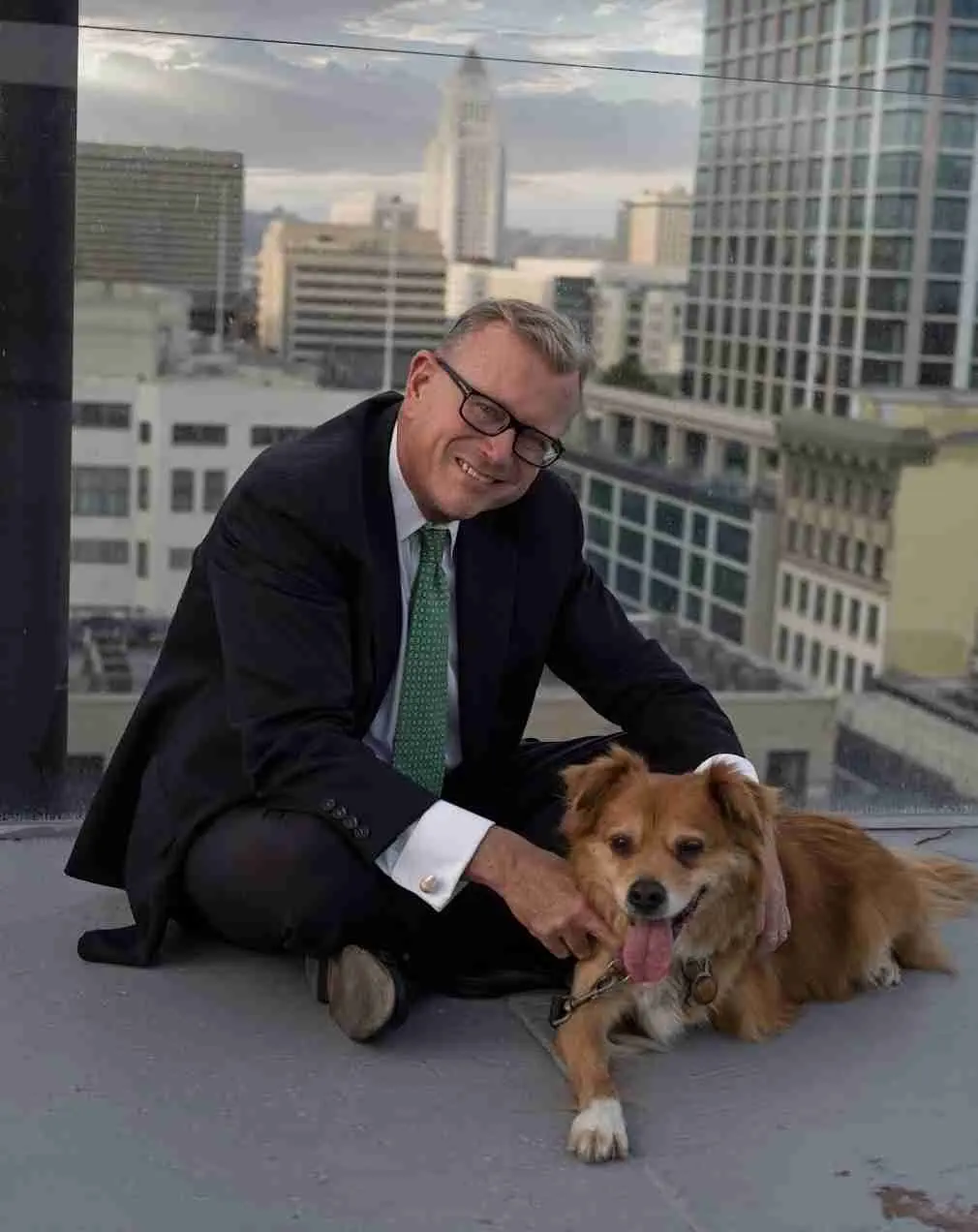 How do you achieve higher consciousness?
I've been clean and sober since February 5, 2001, so I had to come up with ways to deal with that life without getting loaded. My dad was an alcoholic and I vowed that I would never drink alcohol. Not only did I start drinking in college, but I discovered drugs and needles, too, in my late twenties. When I hit my bottom, I went to a 12-step meeting. They talked a lot about God and that really turned me off because I had had a bad experience with religion. I knew from a very young age that I was gay. In my church, if you were gay, you were going straight to hell, so I prayed from a very young age for God to make me straight, but that never happened.
In fact, I considered committing suicide many times rather than have my family, friends and fraternity brothers know that I was a homosexual. In the 12-step program, they said that God was going to remove my alcoholism and drug addiction. I said, "He did a horrible job on the on the gay project," but decided to give God another chance. I had a spiritual experience of the "burning bush" variety and the desire to drink alcohol and use was lifted from me in my first week of sobriety. I say now that I'm spiritual but not religious. I have direct contact with God and don't need people or religion being involved in that relationship. I'm not against religion, but I still don't have a right to exist in mine. Since getting sober, I've had a rich, meaningful and full life and have helped many other people get sober. So, the ultimate answer to your question is I achieve my higher consciousness through prayer and meditation to God. I pray for exactly what I want, but I give God the right to veto anything that's not good for me.
What are some of the meditation/mindfulness techniques that you practice?
I have become a master at meditation and mindfulness. People think it's hard but it's super easy. To meditate, all I do is listen to my breath. Whenever I start having negative thoughts, I talk to them and say, "I hear you, but I'm not buying negativity today," and then pivot to a positive thought. Hypnosis is a super useful tool for me, as well.
Why is gratitude so important?
Gratitude is important because it puts you in a positive state of mind. When you're in a positive state of mind you are not in worry. If you're not in worry you're not in stress. If you're not in stress, you can feel happiness that is within inside you. It's magical. I recommend reading "The Book of Joy," by the Dalai Lama and Desmond Tutu. I'm most grateful for my dog, Scooter. He's my angel on earth.
One's reality is achieved through the thoughts one believes in their head. How do you take a thought and manifest it into your dreams?
The greatest book of all time about this subject is, "The Power of the Subconscious Mind," by Joseph Murphy. It was first published in 1963 and is still in print. Read it. It will change your life. The bottom is that we create our life with our conscious thoughts. Our subconscious is like a kitchen. If you put in "an order" of positive thoughts with your conscious mind, the subconscious you can manifest anything into your life that you suggest to it. If you put in an order of fear and negativity, you get depression and disease.
Who inspires you?
Positive people and, of course, God.
What projects are you working on now?
I'm part of the LA Alliance for Human Rights. We sued the City and County of Los Angeles to force them to better care for mentally ill people and people experiencing homelessness. We have settled with the City and they will be creating shelters in all fifteen Council Districts. The County is still fighting us. We will win. You will see a decrease in encampments. You will see more service for the mentally ill. It's not alright to let people die in our streets and hurt the entire community.
We can be compassionate without enabling people to hurt themselves and others. I suffer from depression and medicated it with drugs and alcohol for many years. The only difference between me having the privilege to do what I do in the community and being in a tent on a sidewalk or pushing a cart , is if I ever drink alcohol or use drugs again. "There but for the grace of God, go I." I raise money for this lawsuit and also The Midnight Mission, where I attended my first 12-step meeting of my sobriety.
What does beauty mean to you?
Beauty is more than just aesthetics. Beauty also comes from within each of us. Kindness is beauty.
How would you describe success?
Doing what you love to do and getting paid to do it. I'm not the richest man in DTLA in terms of my bank account, but I'm one of the wealthiest, spiritually. I didn't have children in this lifetime but I'm having a city. I'm making a difference in people's lives.
What would you tell yourself 20 years ago?
Don't worry about what other people think about you. They are too busy thinking about themselves! Just be kind to others and help them.
You have been 21 years sober. What made you make this decision? How have you dealt with addiction?
Drinking and using wasn't working. Not drinking and using was impossible. I was a failure at overdosing on purpose with the hope of killing myself. That left getting sober. Anyone can abstain from drinking and using for awhile. The challenge is staying stopped. Sobriety is using tools to deal with your feelings so that you don't have to get loaded. It's the best thing I've ever done. My primary purpose is to stay clean and sober and help other alcoholics and drug addicts achieve sobriety.  If I do that, I can keep my wonderful life. If I can help any person who is reading this, please reach contact me.
Where can we find you?
hal@halbastian.com and on social media.