FACE Stockholm announces its collaboration for PRIDE with Derek Warburton, a world-renowned celebrity stylist, television personality, humanitarian, and editor in chief of Gurus and Mr. Warburton Magazines. The collection is named after Warburton's moniker, "Derek Fabulous." The Derek Fabulous collection will include a curated palette of colorful eyeshadows, lip colors, and a tube of Warburton's unique mix of rainbow glitter that represents embracing the boldness of self-expression and celebrates acceptance. Warburton elaborates on what this collection means to him, "PRIDE is a celebration rooted in standing up against those who want to extinguish the freedom to express all gender identities and sexual orientations. This collection will be a tribute to those who have stood up for true self-expression and the allies that have stood beside them."
Warburton has built his brand on his deep commitment to giving back to his community. Having been a homeless teen, his success has only strengthened his ongoing commitment and fundraising efforts aimed at helping at-risk LGBTQ+ youth. Warburton and FACE Stockholm will be donating 100% of the profits to GLSEN, an organization founded by teachers who recognize the role that educators play in creating affirming learning environments for LGBTQ+ youth. GLSEN focuses on activating supportive educators and centering and uplifting student-led movements, which have powered initiatives like the Day of Silence, Solidarity Week, and more.
"Positive representation of LGBTQ+ people makes all the difference for queer and trans youth facing discrimination in their everyday lives," said GLSEN Executive Director Melanie Willingham-Jaggers (they/she). "We're glad to partner on a collection that celebrates and affirms LGBTQ+ individuals and encourages everyone to express their unique style. In the face of political attacks that try to erase and stigmatize our community, it's more important than ever to remind all LGBTQ+ people that we deserve to feel confident, beautiful, and seen, no matter what."
FACE Stockholm is celebrating 40 years this year as a female-owned makeup and skincare company founded in Stockholm, Sweden. Their values have led them as people and as a brand from its inception. FACE Stockholm built itself on self-expression and individuality, clean ingredients, and sustainability. Those tenants have enabled the company to continue as a self-directed independent brand for forty years.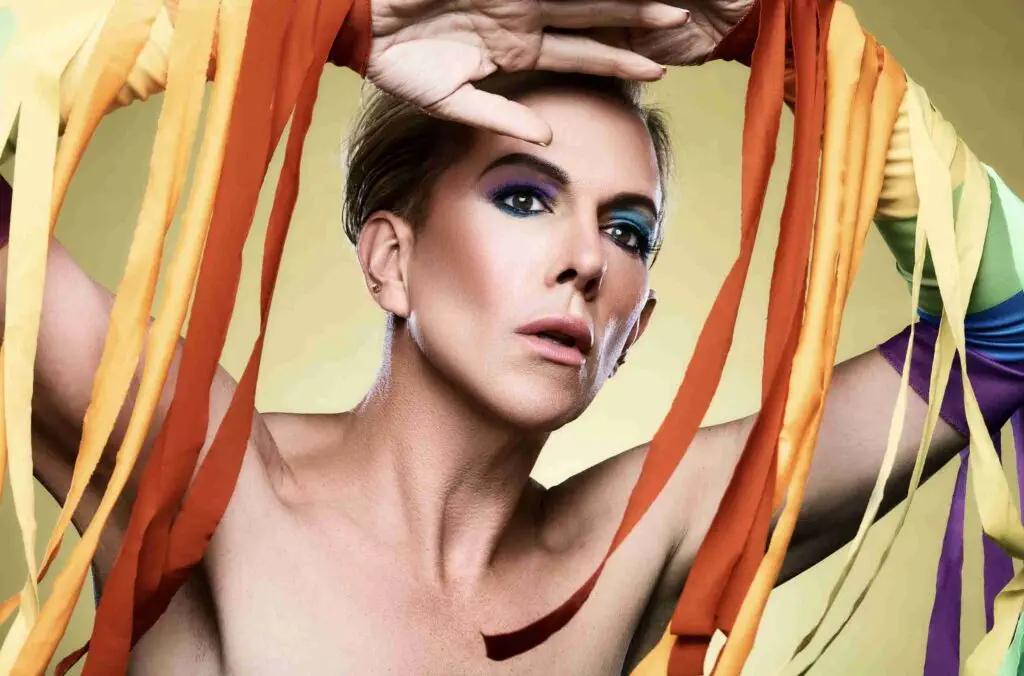 This collaboration recognizes the progress in inclusivity, diversity, and the acceptance of people living and loving freely and expressing their most authentic selves while also acknowledging that there is still more work to do. "Today, we see an alarming amount of new legislation and bills introduced to restrict LGBTQ+ rights. We take this opportunity to support our LGBTQ+ friends, colleagues, family, and all those who will be hurt or diminished by these laws. At FACE Stockholm, we say Gay and are proud to celebrate PRIDE with Derek Fabulous," said FACE Stockholm founder Martina Arfwidson.
https://hollywoodlife.com/2022/06/11/tara-reid-pink-halter-mini-skirt-makeup-launch-pics/amp/
https://www.dailymail.co.uk/tvshowbiz/article-10906455/amp/Tara-Reid-46-cuts-stylish-figure-hits-red-carpet-West-Hollywood.html
https://www.msn.com/en-us/video/news/taryn-manning-derek-fabulous-pride-makeup-collection-launch-red-carpet-in-los-angeles/vi-AAYmdxJ
https://www.hellomagazine.com/royalty/20220612142669/princess-martha-louise-durek-verrett-pride/?viewas=amp
https://www.britishthoughts.uk/2022/06/14/derek-fabulous-mr-warburton-is-out-and-proud-as-he-launched-make-up-collab-with-swedish-beauty-brand/