Unfolding the Tale of Cuisine at Nok's Kitchen
Tucked within the bustling heart of Westminster in Orange County, the Laotian treasure, Nok's Kitchen, unfurls an edible journey that goes beyond the confines of a standard culinary experience.
The Allure of Nok's Kitchen: A Diamond in Westminster's Crown
Being a sanctuary for patrons with a predilection for Laotian gastronomy, this dining establishment transports its guests into an ethereal realm of authenticity, intimate ambience, and superior culinary creations. The charm of Nok's Kitchen is akin to a teleportation device, transforming a local Orange County experience into a mystic voyage into Laos.
The Gastronomic Brilliance: A Symphony of Flavors
A foray into Nok's Kitchen is akin to becoming an explorer, navigating through the gastronomic landscape of Laos. The banquet on offer is a mesmerizing compilation of delicacies, each crafted with precision to present a melody of Laos tastes – the sweet, the sour, the salty, the spicy, and the bitter. Each element, woven together, creates an orchestra of flavors, reverberating through each morsel consumed.
The Ambiance: A Time Capsule of Tradition
The narrative of Nok's Kitchen extends beyond the realm of sustenance, encapsulating an immersive ambiance. Its decor, an amalgamation of traditional Southeast Asian aesthetics and tasteful elegance, offers patrons an escape from the ordinary. Ornate wooden sculptings, splashes of gold, and verdant foliage sets the stage for a trip back in time, into the tranquil abodes of Laos.
Nokmaniphone Sayavong's Odyssey: A Tapestry Woven with Resilience, Passion, and Dreams
Cuisine
If you love spicy, this is the restaurant for you. Nok asked us what our spice level was so I told her, I liked spicy. The style of cuisine comes from the capital of Laos, Vientiane. She told me that means that we like her mild spice level. My favorite dish was the oxtail soup, Tuom, Hang Nguo. Served in a hearty broth with lemongrass, galangal, enoki mushrooms, kaffir lime leaves and chiles. The soup is cooked for hours and the chiles gave it a really nice spice to it. The meat was so tender and fell off the bone.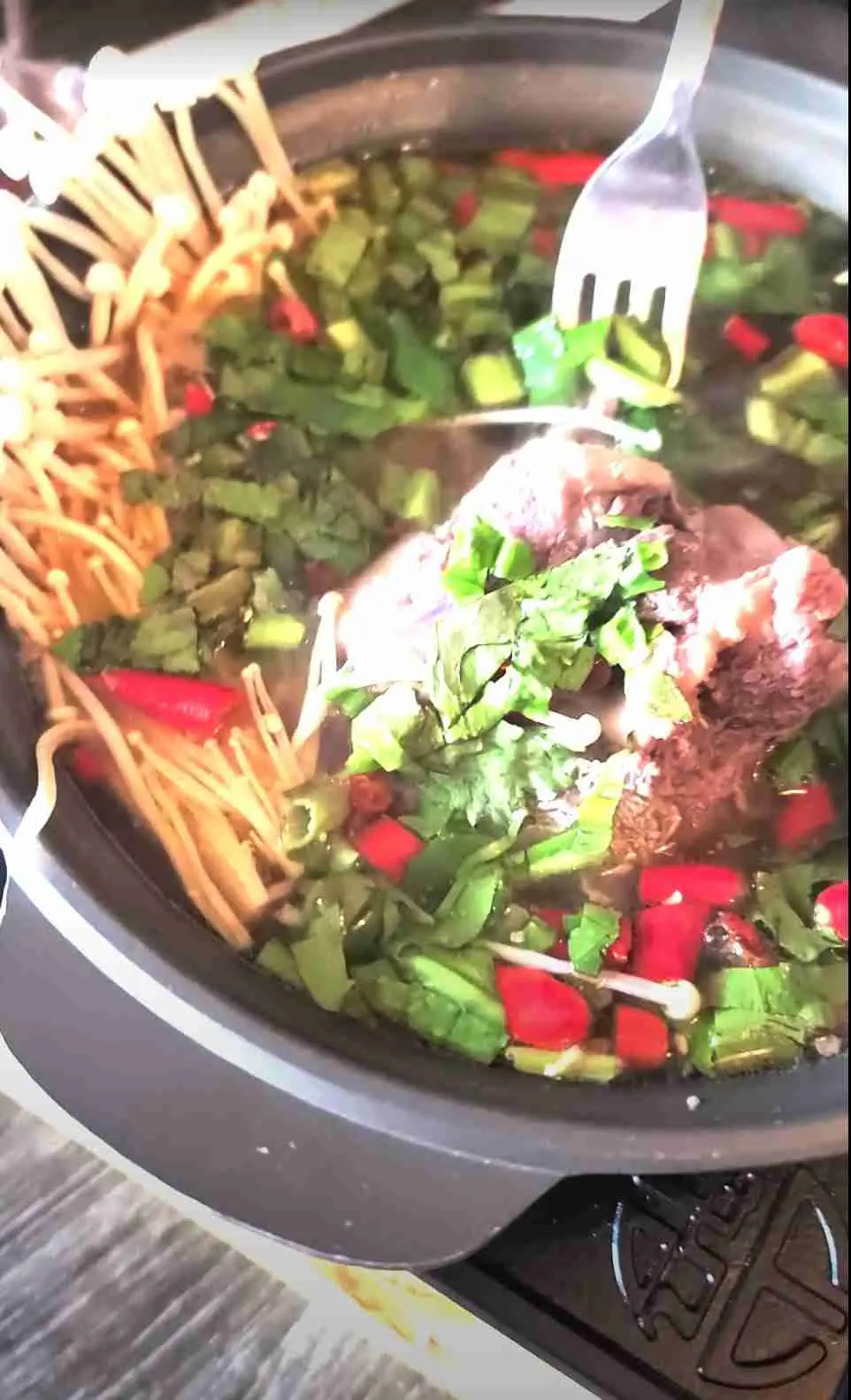 We had a bbq combo platter with pork sausage, wagyu ribeye, and chicken thigh skewers which were cooked to perfection. The sticky rice was a great complement. The larb, which is a national dish of Laos, was a beef salad with fresh greens and a refreshing cucumber.
We finished our meal with fresh mango with pandan sticky rice and took home some homemade chiles for a late night snack.
The Genesis of a Culinary Passion
The saga of Nokmaniphone Sayavong, fondly referred to as Nok, is one of tenacity, relentless passion, and unyielding pursuit of dreams. As a child, she was introduced to farming by her mother, laying the groundwork for a symbiotic relationship between the soil, its produce, and the nourishment it offers.
Reaping Nature's Bounty
Nok, as she matured, plunged herself into the rhythm of farm life, captivated by the miracle of seeds transforming into a bountiful yield. Her interactions with nature and the gratification of seeing her work bear fruit fanned the flames of her passion – a passion for food, for nature, and for the joy of feeding those dear to her.
From Farm to Table
Nok's tryst with the kitchen began on the farm itself, under the patient tutelage of her mother. These culinary lessons, imparted during her formative years, went beyond mere recipes, instilling an appreciation for food and the complex symbiosis between the earth's gifts and the flavors they add to a meal.
Nok's Kitchen: The Culmination of a Dream
The blossoming of Nok's passion took concrete form in 2020 with the establishment of Nok's Kitchen. This restaurant is not just a testament to her love for food, but also a reflection of the purity and authenticity inherent in the humble farm life she once led.
Serving Happiness: The Essence of Nok's Kitchen
A fine-dining experience is a tapestry woven with more than just food. The threads of friendly service, attention to detail, a tranquil ambiance, and palate-pleasing flavors are what make Nok's Kitchen an unforgettable experience for its patrons.
Relishing Hospitality: Every Patron's Privilege
Each customer at Nok's Kitchen is greeted with a warm smile, attentiveness, and amicable hospitality. Their needs are anticipated, dietary preferences catered to, and every effort is made to render each meal a memorable occasion.
FAQs About Nok's Kitchen
Which cuisine does Nok's Kitchen specialize in?
Nok's Kitchen prides itself in serving authentic Laos cuisine, with a diverse menu that appeals to a wide range of tastes.
Does Nok's Kitchen have vegetarian options?
Indeed, Nok's Kitchen offers an array of vegetarian delicacies, and they're also willing to adjust their dishes to accommodate dietary restrictions.
When did Nok's Kitchen first open its doors?
Nok's Kitchen was inaugurated in 2022.
What's the ambiance like at Nok's Kitchen?
The ambiance at Nok's Kitchen combines elements of traditional Laos aesthetics and Victorian elegance, fostering a warm and inviting environment.
Wrapping Up: The Magic of Nok's Kitchen
At its core, Nok's Kitchen is a slice of Laos tucked away in Westminster's heart. Its unwavering commitment to authenticity, premium ingredients, and unrivaled service has earned it accolades as one of Westminster's best Laos establishments. A meal at Nok's Kitchen is a journey through the rich tapestry of Laotian gastronomy, a journey well worth embarking on.
9378 Westminster Blvd., Westminster, CA 92683