Burning Man: an annual spectacle in the Nevada desert, drawing in artists, free spirits, and adventurers from every corner of the globe. It's a festival of self-expression, transformation, and community. And for photographers, both professional and amateur, it's an unparalleled opportunity to capture humanity and artistry in their rawest forms. However, shooting at Burning Man is no ordinary feat. It comes with its unique set of challenges — but oh, the rewards are simply incredible!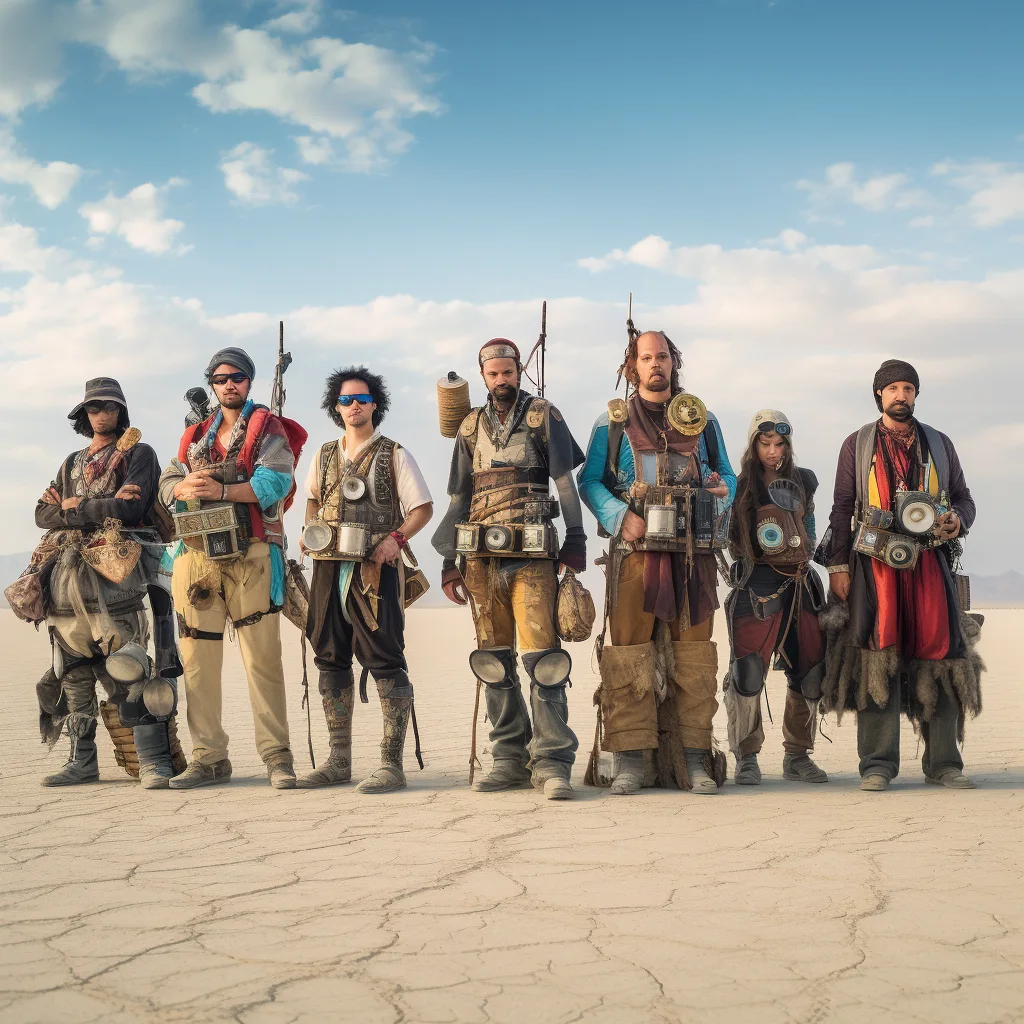 The Challenges of Photographing at Burning Man:
Harsh Desert Conditions: The Playa's unpredictable weather, from sandstorms to intense heat, can be tough on both photographers and their equipment. Cameras need protection against the omnipresent dust which can wreak havoc on lenses and sensors.
Overwhelming Visual Stimulus: Every direction offers a new visual story, from grand art installations to intricate costume designs. The challenge is deciding what to capture and from which angle.
Photography Etiquette: Burning Man emphasizes personal respect and privacy. Always ask for consent before shooting individuals, and be mindful of capturing intimate moments without permission.
Gear Limitations: You can't possibly pack for every photographic scenario. Choices must be made, and that often means leaving some beloved gear behind.
Night Photography: With little ambient light and subjects constantly on the move, capturing the festival's nighttime essence requires a blend of skill and the right equipment.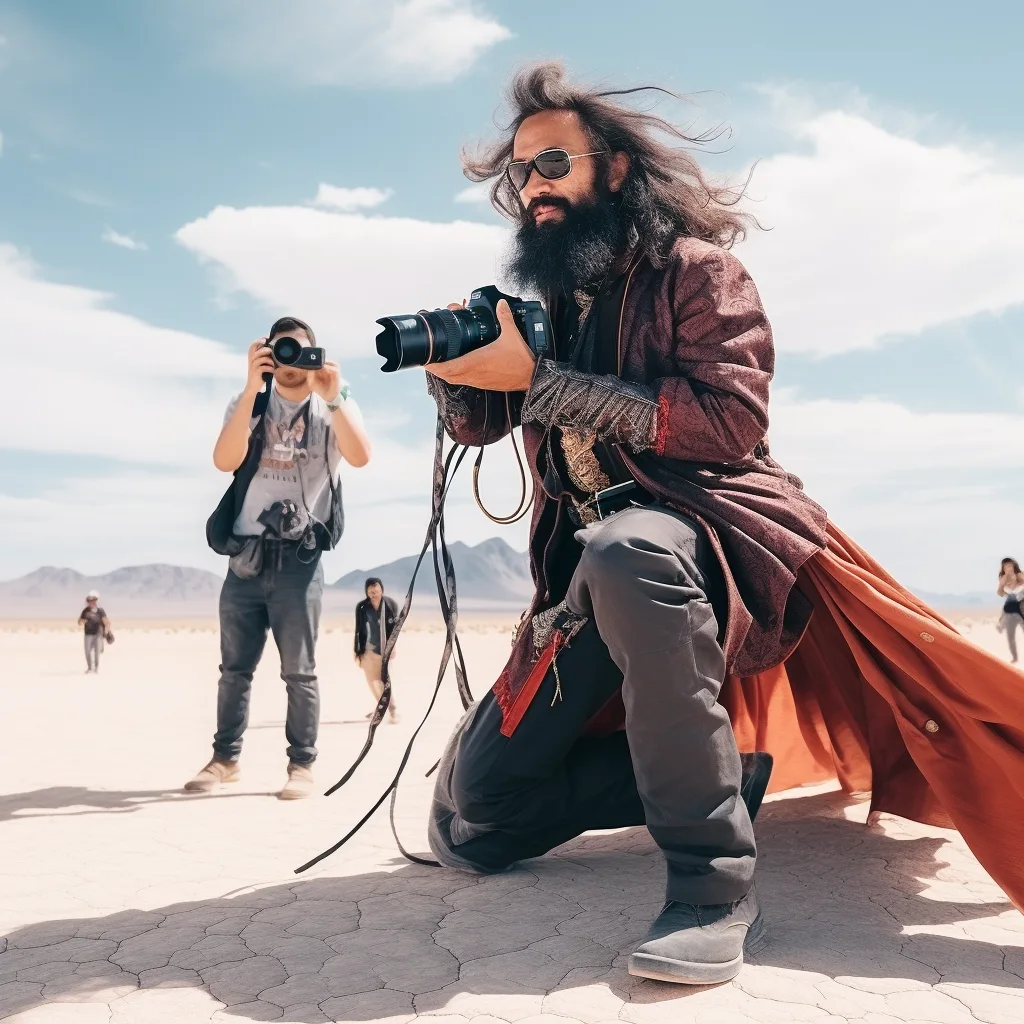 The Rewards of Shooting at Burning Man:
Unique Storytelling: The Playa offers narratives you won't find anywhere else, from sunrise dances to the culminating burn. Your photos can tell profound, one-of-a-kind stories.
Diverse Portraiture: The attendees, or Burners, come adorned in self-made outfits, embodying their personal expressions and stories, making for rich and diverse portrait opportunities.
Incredible Landscapes: The vast desert, punctuated with art installations and the enigmatic Black Rock City skyline, offers landscapes both surreal and captivating.
Skill Enhancement: The challenging conditions push photographers out of their comfort zones, honing skills and fostering improvisation.
Community Engagement: Interacting with subjects allows photographers to engage deeply with the Burning Man community, often leading to shared experiences and stories that enrich the shooting process.
Delving Deeper into the Burning Man Experience:
Preserving Impermanence: One of the core principles of Burning Man is its ephemeral nature. The art installations, many of which take months to conceptualize and build, stand in the Playa for a week and are then dismantled or burned, never to be seen again. As a photographer, you are in a unique position to capture and immortalize these fleeting marvels. Your images might be the only lasting record of some of these creations, giving your work an added layer of significance.
The Dance of Flames and Shadows: At the heart of Burning Man is, well, the burning of the Man. This ritual, filled with reverence and celebration, is a challenging event to photograph. The dynamic range from the roaring flames to the inky darkness of the desert night requires a deep understanding of exposure settings. But when captured just right, the results are mesmerizing: silhouettes dancing against a backdrop of fire, the Man standing tall amidst the inferno, and the collective emotion of thousands of onlookers. It's a scene of raw power and profound sentiment.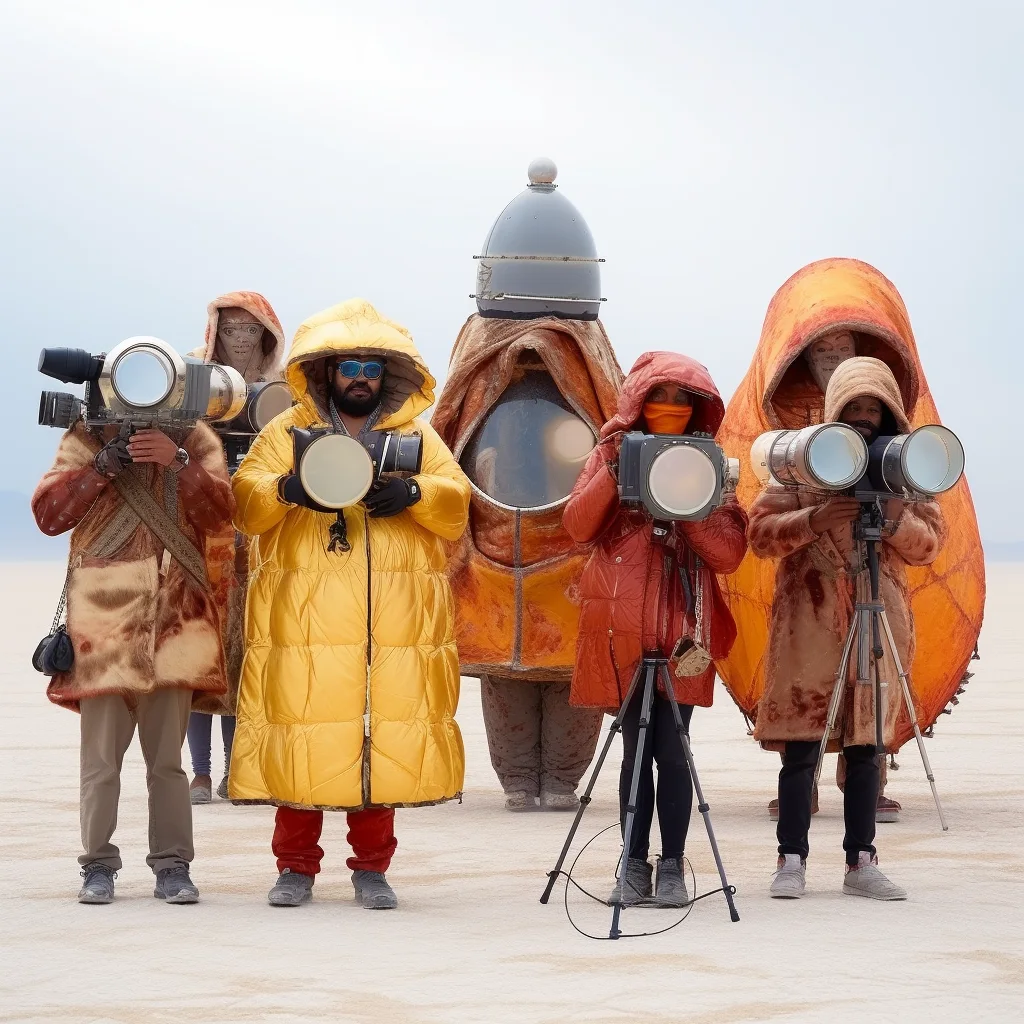 Connecting Beyond the Lens: As much as Burning Man is a visual delight, it's also an emotional journey. When photographers take the time to connect with their subjects, they often find themselves enveloped in heartwarming stories and serendipitous encounters. These genuine connections translate into photos, giving them an emotional depth that resonates with viewers. It's not uncommon for photographers to put down their cameras and immerse themselves in these shared moments, reminding them that sometimes the experience is more precious than the shot itself.
Final Thoughts: To photograph at Burning Man is to embark on a journey of technical challenges, artistic exploration, and profound human connection. It's an experience that tests and rewards, often in ways that aren't immediately evident. The Playa leaves its mark, not just on the memory cards and camera sensors, but deep within the soul. Each photograph becomes not just a visual record, but a story, a sentiment, a piece of the indescribable magic that is Burning Man.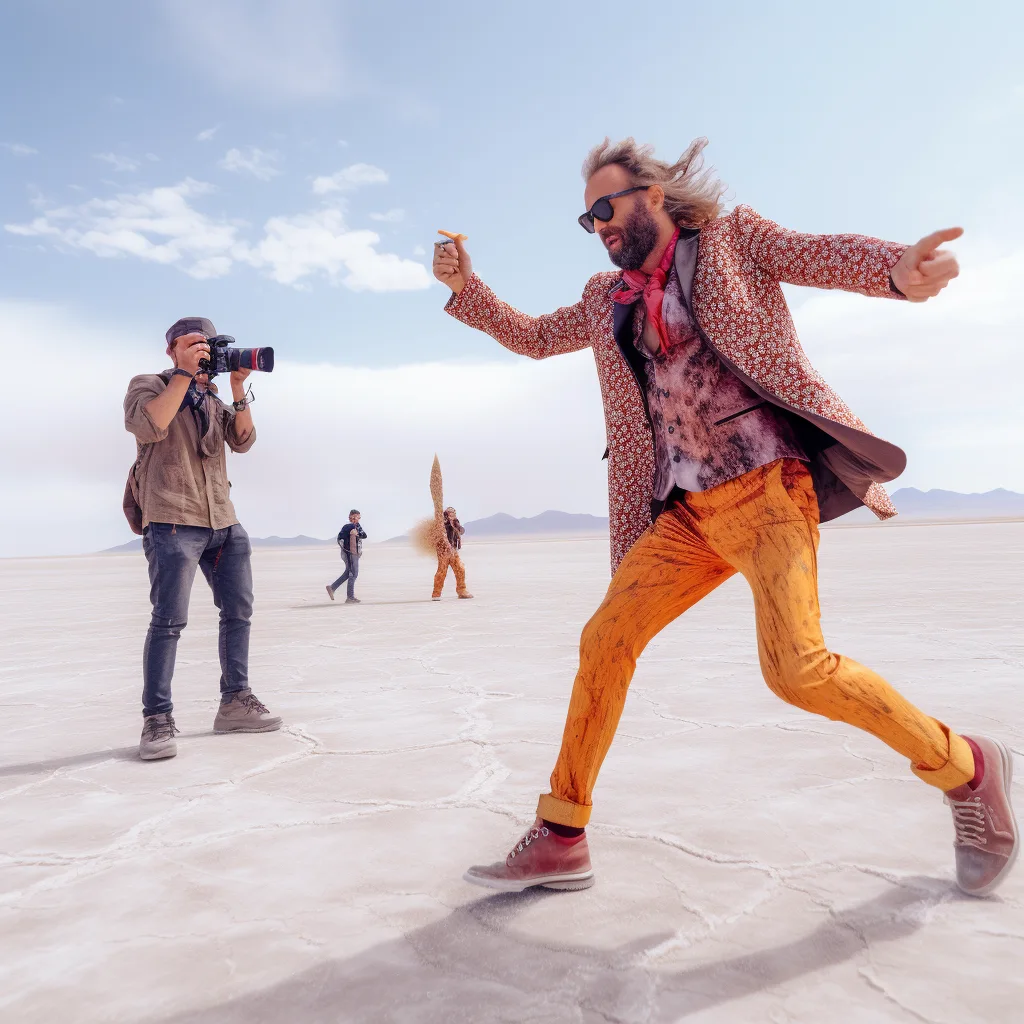 About the Author: David Christopher Lee
David Christopher Lee has always been a gifted person and a pioneer since he was a young child. His father was a mathematician. Academia ran in his blood. David was labeled a child prodigy by his teachers, winning statewide writing competitions as young as 8 years old. David's abilities didn't end there. He was a pianist, playing concertos by Bach, Mozart, and Shostakovich with the USC orchestra at the age of 16, garnering many awards from piano competitons. Graduating 4th in his high school class, David was accepted into UC Berkeley and graduated two years early due to AP classes he took in high school.
In 1999, when the photographer world was only film, he became the first official digital photographer of the Teen Choice Awards, MTV Movie Awards, Billboard Music Awards and found a passion for the entertainment industry.
He has worked in over 40 Countries and has developed an innovative international style of his own. He started his first online magazine called TDink.com in 2001 and was the first to publish fashion editorials online. As a young publisher, he had access to the most incredible events and innovators of the world. In 2009, he started Destinationluxury.com which became one of the largest portals for all things luxury including 5 star properties, Michelin Star Restaurants and bespoke experiences.
As a portrait photographer and producer, David has worked with many celebrities & major brands such as Richard Branson, Lady Gaga, Cadillac, Lexus, Qatar Airways, Aman Hotels, just to name a few.
David's work has been published in major magazines such as GQ, Vogue, Instyle, People, Teen, Men's Health, Departures & many more.
In 2020, David started a site called thebiohack.org which is about health, wellness, biohacking, and anti-aging. When covid began and all the parties stopped, he found a new passion for holistic healing and pushed his body to the limits mentally and physically. He transformed his body in 6 months and has a totally new outlook on life. David's best ideas come to him when he meditates daily for 2 to 3 hours. He loves biking, skiing, and exploring. Work and play are the same to him, as long as he is broadening his horizons, challenging himself, and going outside of his comfort zone.