Mario Adrion is from a small town in the south of Germany before he moved to NYC for modeling. He now makes YouTube Videos preferably in Speedos inspiring people to get out of their comfort zone while doing Standup Comedy in Los Angeles.
Tell us about your upbringing. Where are you from
I am from a town of 800 people close to the Swiss and French border. There was no fashion industry there and I worked at a local brewery after school. So it was quite a jump going from that straight to New York for modeling.
How did you find your passion?
I always loved making people laugh even as a child but never thought it was possible for me to pursue it as a Career. I did well in school and was raised in a very 'German' way- thinking that becoming an engineer would be the only Career path for me. When I started traveling- my eyes were opened to the possibilities of creative expression I had!
What's been your greatest struggle?
I've dealt with quite a lot of sexual harassment and assault as a male model. It took me a long time to acknowledge that I as a man can also have sexual trauma from that. That's why I now believe it is important to speak about assault also as a man.
What is your creative process?
I am extremely organized and have entire weekdays blocked off just to brainstorm. My phone is on silent mode and I go on walks and just come up with new concepts for YouTube videos. Most of my ideas weirdly come to me in the shower when I'm not distracted just being in a flow state.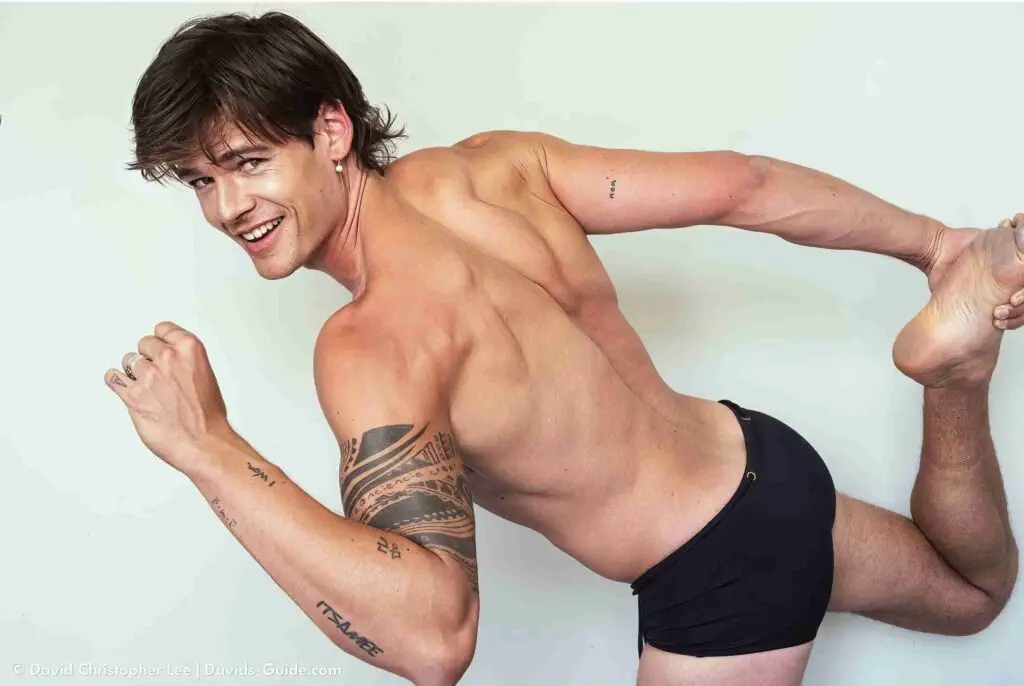 What was your first big break?
As a Comedian and TV-Personality I would say it was being on the show Germany's Next Topmodel with Heidi Klum. I was a model judge one season and just enjoyed being on camera and got a lot of press from that.
How would you describe your style? What are you known for?
I am known for not wearing much! I love speedos as a European and want to encourage Us men to also wear speedos, regardless of their sexuality! I wanna make speedos great again!
How did you get into comedy?
I took a Comedy Intro class at my acting school and absolutely fell in love with it! Doing comedy videos on YouTube is great but actually connecting face to face with an audience is MAGICAL!
How do you achieve higher consciousness?
After going to Burning Man I started implementing meditation every morning and it's changed the way I operate. But in general being able to travel all around the world has opened my mind to different viewpoints.
What is your fitness and health regimen?
I do Yoga on off days and work out 3 times a week with Gymnastic rings. I LOVE gymnastics and new challenges for my body other than just pumping iron at the gym.
Why is gratitude so important?
Gratitude centers me. No matter what's going on in my life I end every day with saying 5 things out loud I am grateful for and it just puts things into perspective for me.
One's reality is achieved through the thoughts one believes in their head. How do you take a thought and manifest it into your dreams?
I think a thought it not enough. I believe in speed of implementation so whenever I have an idea or a goal I immediately do the first step I can do TODAY to get closer to that. This creates momentum and intention instead of just dreaming about a goal.
Everyone has a past…sometimes, it can be quite dark. How would you suggest letting go of your past so that you can achieve great results for the future?
I'm a strong believer in therapy. I have an amazing life coach who's referred me to a Program working through my Sexual Trauma. The openness of talking about it with professionals and also friends and family members has helped me let go of the past.
What is the best way of connecting with someone?
In real life! I love nothing more than going up to strangers in my YouTube videos and sharing some positivity. It's scary but the more I do it the more confident I become.
How do you support the LGBTQ community? What would be some advice that you can give to the youth?
I've done many videos explaining that I don't label. I was raised European so being fluid is not a big deal. I just hope we get to the point where we can just live our lives and do what feels right in the moment instead of living within the barriers of a label.
How would you recommend anybody to take their career to the next level?
Make FUN the priority! We are often so goal-oriented. Once I started letting go of the result and decided to do what gives me joy, I became more successful in my career. I love comedy and YouTube therefore I will outwork anybody.
Who inspires you?
My grandpa! He's a legend. At 95 years old he was still positive and so grounded after having raised 7 kids… I admired his grounded calm attitude.
What projects are you working on now?
Youtube is my main focus- I am currently planning my own YT version of Americas Next Top Model where I will fly a Subscriber out to LA to shoot with me.
What is your dream project?
I'm gonna do a Netflix Comedy Special in a speedo.
What does beauty mean to you?
Beauty to me is just natural health! I really don't find the typical LA look with Fake lips attractive at all. Beauty is also more of an energy than just a physical trait. If somebody can make eye contact and authentically smile at me- that to me is beauty.
How would you describe success?
Being authentic! I've seen many people make money doing things they don't 100% enjoy or stand behind. For me doing what I love and sharing my authentic message is the biggest blessing- regardless of money or numbers.
Do you have any friends that we should follow on Instagram?
My friend @jeffkasser he's a blonde cowboy from Tennessee with a big heart.
Where can we find you?
Myspace @marioadrion