Sebastien Silvestri is the CEO of Dinex Group, the Daniel Boulud Restaurant Group. His focus is on defining the next era for the Group's collection of restaurants and brands, expanding the brand portfolio through strategic acquisitions and new business development, and maintaining the excellence of the existing operations. He oversees the Group's company-owned and licensed venues around the world. He joined Dinex as CEO in August 2019, with over 25 years' experience in the hospitality industry.
Tell us about your upbringing:
I grew up in a small town in the south of France, a very simple, beautiful time and place. My mother is French, a schoolteacher, and my father is Italian, and had his own construction business. From them I learned the greatest lessons in having strong values and living an authentic life.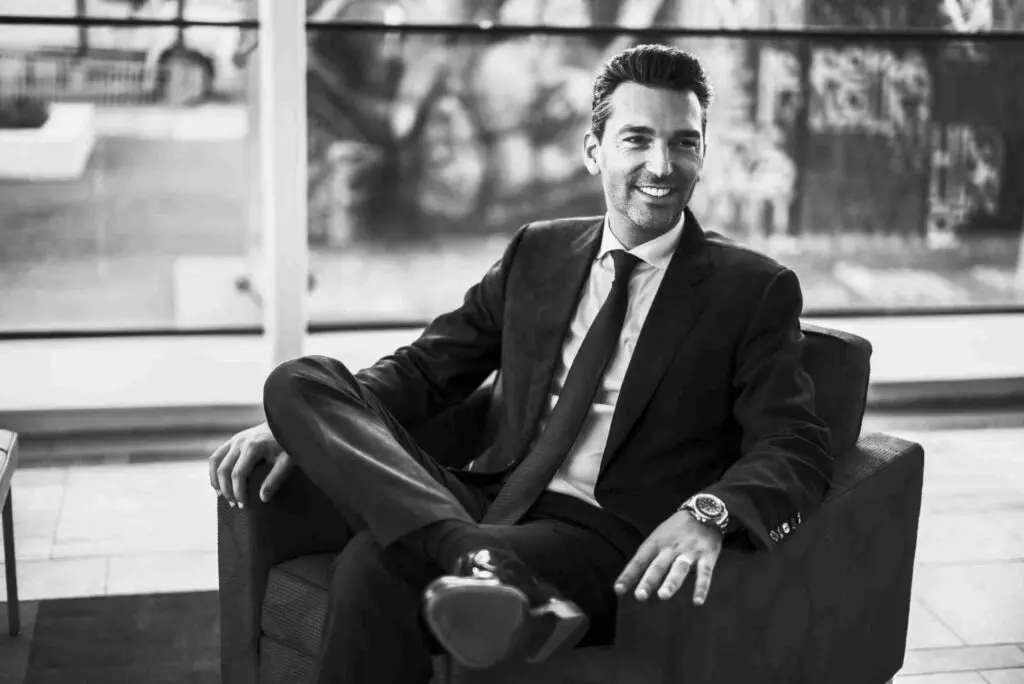 How did you start your career? What was your first big break?
I started working very young, in local restaurants in the south of France. It was in my blood in a way, because my uncle had a wonderful restaurant on the Italian Riviera, and he was a great inspiration to me. He embodied the concept of hospitality – of being a great host, having that joie de vivre – and I still carry that image with me today.
My first big break came quite a few years later, when I was recruited to go to the Bellagio in Las Vegas. Moving to Las Vegas took everything to a new level for me. You're really working on a larger scale there, and everything becomes possible.
You ran one of the biggest hotels in the world (The Venetian in Vegas). What are some things you learned about operations?
Working at The Venetian was an amazing opportunity. With such a huge, and growing, food and beverage operation. I learned so much about running a business there. You have to be on top of everything: finance, operations, planning, marketing, strategy, etc., leading a team of thousands of people. It's big picture, but in the hospitality business every little detail also counts, always. So probably what I learned is to be able to balance thinking big and growing strategically, with providing consistent excellence for a very high volume of guests. That is not an easy balance, but that is the challenge, every day!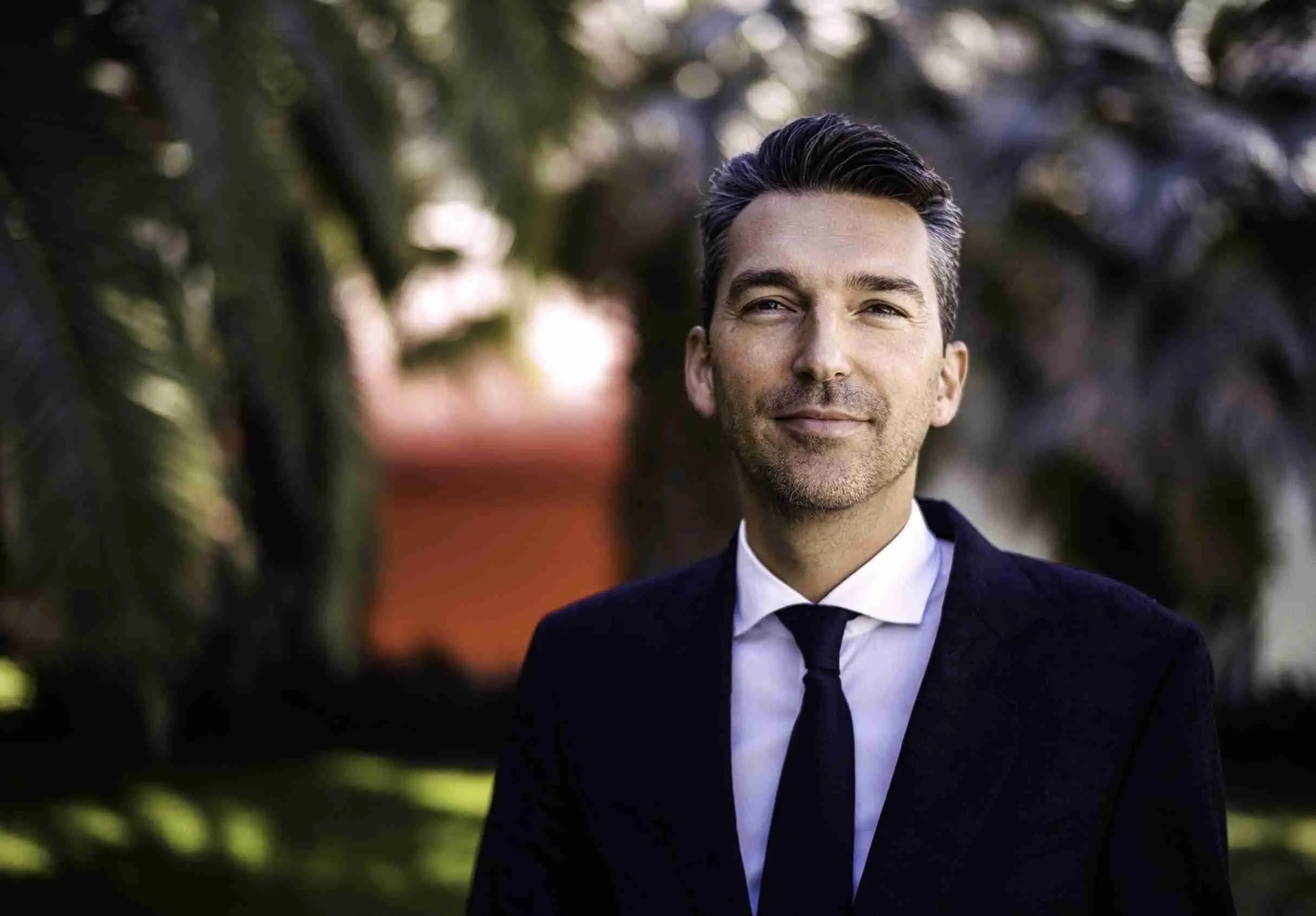 Tell us about the Ultimo event at the Venetian:
Creating Ultimo was a lot of fun, because I was able to think completely out of the box and come up with dream experiences, and then turn them into reality. It was about bringing together all the grandeur of the property, all the celebrity chefs who had restaurants there, all the best luxury brands, all the fantastic guests and amazing performers, and then taking everything even more over the top for one unbelievable weekend. We created fantasy experiences like having dinner on a cloud, or while floating down a Venetian canal with an orchestra. It was about bringing together people who are not easily impressed, and then impressing them beyond their expectations, and I can tell you that generating that kind of excitement and energy was really a thrill and a privilege. I would love to bring Ultimo back again someday, and do it for a great cause.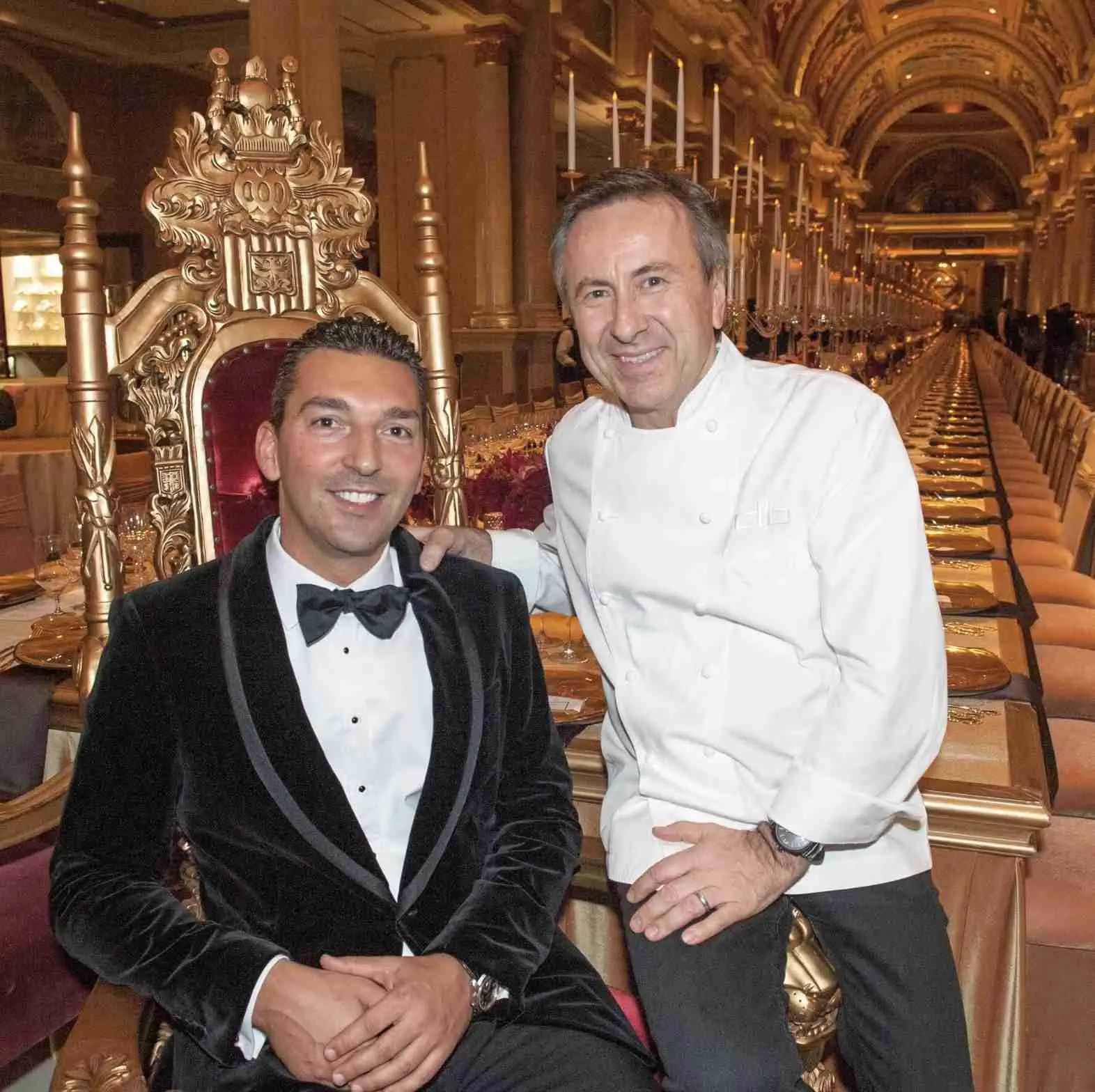 What is your role at Dinex Group?
As the CEO of Dinex, I am mainly focused now on planning and implementing our growth strategy. Over the past two years it was a little more tactical, with getting through Covid, rebuilding our team, and reopening our restaurants. Now I get to focus more on the fun part, which for me is growth, and fortunately we have a lot of that ahead of us!
What are some of your projects you are working on now?
One exciting project is opening Café Boulud in Beverly Hills at the Mandarin Oriental Residences. As a part-time Beverly Hills resident, I am looking forward to that personally, and I know that there's a lot of excitement about Daniel opening a restaurant for the first time in California. I'm sure it won't be the last! We continue to expand worldwide, with a new location scheduled for the Middle East next. And of course we have a lot happening in New York City. I love seeing and being a part of the revitalization of the city with our restaurants.
What is your passion?
I wouldn't say I have just one passion – I love traveling, food, wine, being with family, and being active, like biking outdoors on a beautiful day. Maybe my passion is living life to the fullest.
You are an avid runner. Have you ran any marathons? What is your routine?
Yes, I have run a few marathons, most recently the 2021 New York Marathon, which I plan to run again this year. Generally, I try to run once a week on Sundays, as I don't have much time during the week. But when I'm training for the marathon, I manage to fit in 3 runs per week for several months, getting up to 18 miles. Training for a marathon is a great motivator for me. I'm a pretty competitive person, and it's great to have that goal.
What are some of your favorite restaurants in the world?
I'm very lucky that, honestly, many of my favorite restaurants are Daniel Boulud restaurants. Restaurant Daniel, in particular, is my idea of perfection – classic French dishes, executed at the highest level, with both creativity and finesse.
I am also a big fan of L'Atelier de Joel Robuchon, and in Paris, Le Bon Georges is one of my favorite local bistro.
Other than that, I love Italian food, and my favorites are too many to count – but definitely the hidden little places in Emilia-Romagna are the best.
How do you achieve higher consciousness?
I am not sure that I have achieved higher consciousness, but probably when I'm running or biking outside in the fresh air is when I come close!
Why is gratitude so important?
Gratitude is important to me because I know there are so many things in life that we don't control. I am exceptionally grateful for my beautiful family, my health, my great friendships and all the opportunities I have had. I'm doing what I love in life, and I never would have been able to get here on my own.
One's reality is achieved through the thoughts one believes in their head. How do you take a thought and manifest it into your dreams?
I am naturally an optimist, so it's not really an effort for me – I am always looking forward to the future, thinking big and making my dreams reality. If there's one thing I've learned, it is that anything is possible!
Everyone has a past…sometimes, it can be quite dark. How would you suggest letting go of your past so that you can achieve great results for the future?
I try to learn from the past, and for me there has always been something good to take from even the hardest experiences. For me, the past is mostly a wealth of cherished memories, lessons learned, and incredible experiences, so I don't want to let it go. I keep it with me, and use that as guidance for making the future even better.
What is the best way of connecting with someone?
I believe the best way of connecting is with a smile. Even better if shared over a good glass of Burgundy.
Who inspires you?
My very first inspirations are still my inspirations today: My uncle, who introduced me to the hospitality industry and showed me what it means to be the life of the party; and my father, who is the purest example I know of being a good person and good father, and who sets the standard for how I try to be now with my daughters and Daniel of course for everything that he does to everyone around him.
What does beauty mean to you?
Beauty is a surface-level thing, which I can appreciate as I do all the luxuries in life. In my business, I think it's important to appreciate all aspects of luxury and beauty, while knowing that it only gets better when there is substance behind it.
How would you describe success?
You have to be happy where you are, but also have the feeling that there is much more to accomplish in order to stay motivated in life. Once you reach a goal, you need another goal. The most successful people I know are the ones that are never satisfied. I love my life as it is now, but I still have so much more to achieve.
Where can we find you?
In New York, you can find me at Le Pavillon. This restaurant is so special to me, as we opened it during one of the hardest times in the city, and out of crisis we created this absolute gem. In my opinion, it's the best place to meet and greet people in NYC.
In LA, you can find me enjoying a great Italian lunch, or on my bike in Santa Monica or Malibu.
Follow Sebastien on Instagram.