Cole Walliser is a Canadian filmmaker, director and host, based in Santa Monica. He gained his Bachelor's of Arts degree from the University of British Columbia in Psychology before making the big move to Hollywood to pursue film. He has established himself on both sides of the camera, directing talent like Pink/Katy Perry and commercials for brands like Red Bull/Chevy. He also shot for Covergirl, including female pop stars; Cher, Britney Spears, Selena Gomez, Tinashe, Laura Marano and more.
Cole Walliser Ethnicity: Chinese/Caucasian
Thanks to his unique creative POV and relentless passion, Cole has quickly gained a highly engaged following and is a red-carpet regular by capturing celebrities in slo-mo with E! Entertainment's The GlamBOT. Most recently, Cole can be seen as the host and judge of the new Hulu photography competition show Exposure, which premiered on April 26th 2021. This past year, Cole also started a coffee business from his home (Café Colione).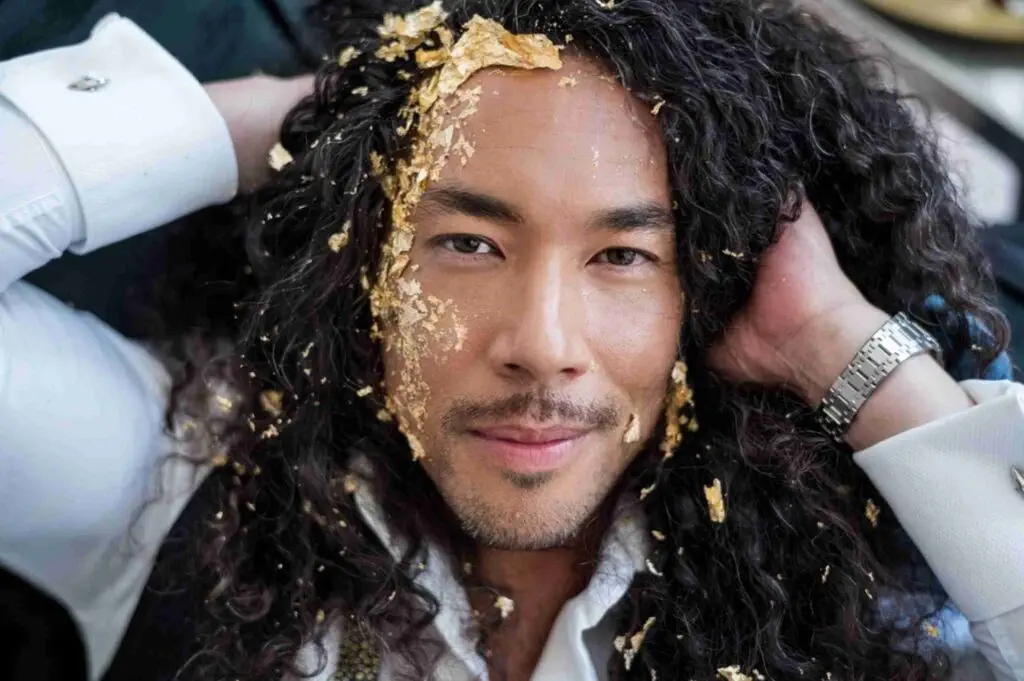 What is your background? Tell us about your upbringing:
I grew up in Vancouver Canada in a mixed culture home with my mom being primarily Chinese descent and my father being caucasian. Though on my Chinese side, my grandparents were actually born in Canada, so we have a long history of being in Vancouver and strong ties to Chinatown. I grew up being active and skateboarding which is where a camera landed in my hands for the first time. I loved being creative and seeing how images could affect people, wow them with a skateboarding trick, or feel something through a story.
You are a man filled with creativity. Where did you find your passion for creating?
I think I learned to be creative as a child, and it really became ingrained into my DNA. It's both the most rewarding and the most frustrating thing to do, but without it I would be incomplete.
You are the king of slow motion. How did the GLAMbot idea come about? Can you tell us all the tech elements of the setup?
The GlamBOT is a camera system typically used in food commercials! When you see like a taco breaking in half in slow motion, or a burger flying together piece by piece, that's what it is normally used for. E! Decided to try to shoot talent with it, and when they realized this would be cool, they needed a director to direct talent for it, and that's how I became involved. There's really 3 elements that make a GlamBOT, 1 is the motion control camera arm. This 1500 lbs robot that moves the camera very precisely and very quickly, and then there is the camera itself, we shoot at 1000 frames per second, so you need a specialized camera to do that (and a LOT of light) and then there's me, giving direction to the talent and figuring out the best camera moves to highlight what they are doing. You get all of those things, and you can make a GlamBOT!
Tell us about your background? Where are you from and how did you grow up?

I am from Vancouver, BC in Canada. I grew up skateboarding and that's where a camera originally got put in my hands. I loved shooting things and creating video and when I was in college pursuing a degree in psychology it dawned on me that a career in film could be possible. So I graduated and then moved to Los Angeles and worked my way up!
How did you get into the entertainment industry?
I used to dance as well, so when I moved to LA all I knew was dancers. My first work in LA was editing dance and choreography reels, as well as shooting dance videos. That led me shooting some BTS footage for my friends who were choreographing a P!nk tour, I met P!nk and her tour director and they wanted to bring me on to shoot a few days on tour. That turned out to be 7 years of working together on two world tours, and a bunch of tour videos and music videos. Pink really gave me my start.
How would you describe your directing style?
I have directed a lot in beauty, so it definitely has a glamorous style to it! I also love to infuse humor into my work, and often have strong female leads.
What would be your ultimate project?
The big goal is directing a narrative feature, so I've been working on developing that!
What are your favorite travel experiences?
I think Egypt when I went to direct some slow motion videos out there for the Cairo international Film Festival. That or a 5 day winter camping trip to Yosemite was pretty epic.
Who are your favorite musicians?
Depends on my mood, but lately I've been listening to a lot of Harry Styles, Drake is always in solid rotation, then maybe chill out to a bit of Jack Johnson or Chilly Gonzales.
Do you have any influencer friends who we should be following on Instagram?
I have a few! I just met a bunch in France while doing some work with Meta. @tank.sinatra is a legend, as well as @ninamariedaniele a few creatives like @itsjakeberg and @pablo.rochat are good, and of course the season 1 winner of Exposure on Hulu (which is a TV I hosted and judged) @marilynhue is an amazing photographer and a wonderful person.
Tell us about your background in skateboarding.
It really was the thing that got me started in film! People kept handing me the camera saying "Cole, you know how to shoot good footage, you shoot it" I just kept having a camera in my hands, and starting loving to see how I could affect what was happening in the frame by where I placed the camera. It really started this life long love affair with film and cinema.