If you want Hot Pot Las Vegas, X Pot is the spot. Located in the Palazzo, X Pot offers a true luxury experience of hot pot. When you walk through its doors, you will feel like you have been transported to the bustling modern Shanghai.
A 50 foot long golden Phoenix flies across the ceiling of the restaurant while guests dine at luxe black and gold tables. Instrumental traditional Chinese music plays in the background while waiters in black vests move throughout the restaurant serving patrons.
Hot Pot Las Vegas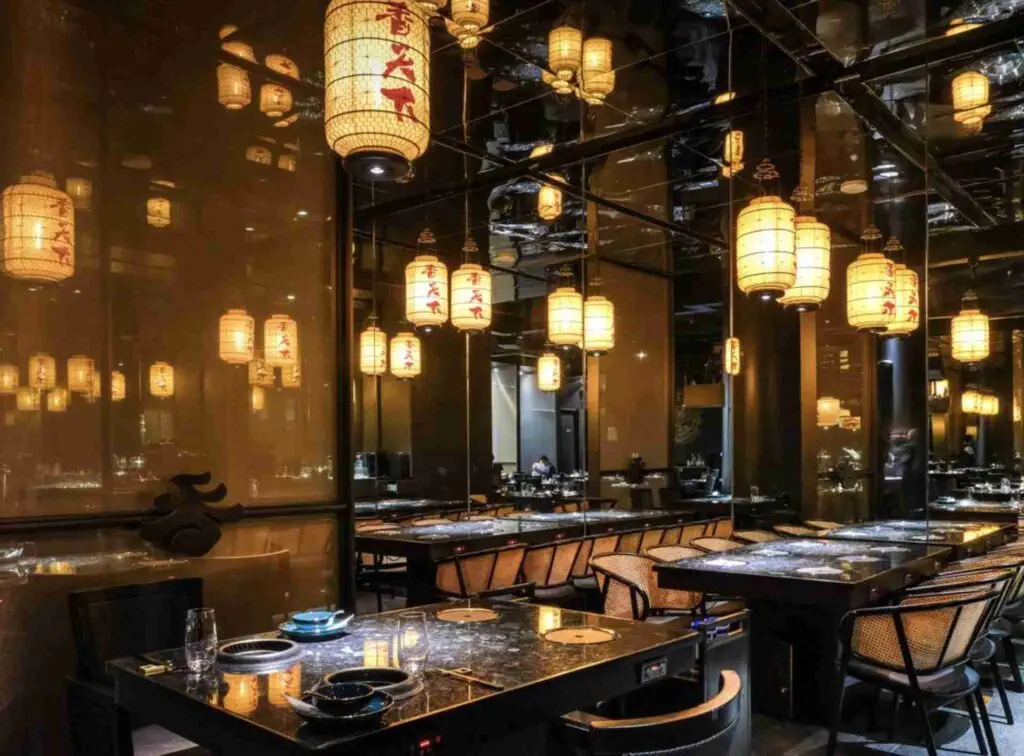 We started with the swan cakes which sat on a bed of dried ice mimicking a lake on a misty morning. The swan cakes are made of black flower dough, Chinese roast duck meat, minced onion with black pepper sauce. The X signature Wagyu tartare is mixed with lemon, capers and black pepper sauce.
The Yin and Yang of Hot Pot Las Vegas
The Yin and Yang has blue fin tuna, 2 different cuts. One is the akami cut with kaluga caviar on top with kazami wasabi. The other cut is the Toro cut which is a fatty tuna. Topped with the house made tuna sauce, it is incredible.
High Quality Meats at Hot Pot Las Vegas
An assortment of high quality meats are served on a gorgeous bronzed cow with many tiers. Dried ice is poured beneath the cow and flows onto the table. The meats are filet mignon, ribeye w foie gras, beef tongue, chuck short rib, and short rib cube. Beef tongue and chuck short rib are grilled on the salt stone grill to ultimate perfection.
The Wagyu Feast at X Pot, Hot Pot Las Vegas
The Wagyu feast is Miyazaki gyu which is a top Japanese Wagyu known for its quality and consistency. Produced from Black cattle and raised in Miyazaki prefecture, it's known for its snowflake-like marbling. The fat is pushed into the meat due to the genetics of the cow which causes the marbling. Traditional beef does not have this intense of marbling.
"The Sound of the Sea" has Boston Lobstertail, Chilean seabass, kushi oysters (Japanese) and spotted prawn sashimi.
Golden Wagyu Rice
The Golden Wagyu rice with truffle is divine. I'm Chinese and I've had fried rice my whole entire life. This is the best I've ever had for its succulent juiciness and delicate flavors. It's perfectly salted and spiced, mixed with egg, green onions, red onions and ginger. The sliced truffles and potato crisp give an incredible accent.
The dancing noodle is a flour noodle that is served in a whimsical presentation. The chef comes out and plays techno music at your table through a portable speaker and continues to pulls the noodles in front of you. As he stretches the noodles, he throws them, rotates them and creates a spectacle in true Vegas fashion. Cooked in your soup for 2 minutes, it is oh so tender and utterly delicious.
View this post on Instagram
The X-pot experience encapsulates a modern take on Chinese hot pot with luxurious cuts of meats and a high energy environment. Throw in a little Vegas savoir and you have a show that will keep you entertained all night.
X Pot
The Palazzo
3327 S Las Vegas Blvd Suite 2884
Las Vegas, NV 89109
Hot Pot Heaven: A Dive into Las Vegas' Sizzling Scene
Las Vegas, renowned for its dazzling strip and buzzing casinos, also holds a culinary secret: an exploding hot pot scene. From the bustling Chinatown to luxury resorts, hot pot restaurants are sprouting up, promising a communal dining experience like no other. Here's your guide to enjoying hot pot in Sin City.
Hot Pot 101: For the uninitiated, hot pot is a popular Asian cuisine where diners cook raw ingredients, like thinly sliced meats, vegetables, and noodles, in a simmering pot of broth placed at the center of the table.

Vegas' Variety: In Vegas, the hot pot experience is diverse. Whether you're seeking traditional Chinese flavors, spicy Thai broths, or unique fusion twists, Las Vegas has a pot for you.

Broth Base: The soul of hot pot is the broth. Las Vegas' restaurants offer a spectrum, from rich bone broths to spicy mala bases, and even vegetarian concoctions. Some venues even offer dual or multi-broth pots for those indecisive moments.

Meat the Stars: Prime cuts of beef, lamb, pork, and seafood await to be swished and cooked in the bubbling broth. The quality and variety of meats in Vegas' hot pot spots are unparalleled, catering to every carnivore's fantasy.

Veggie Delights: Fear not, vegetarians! Plenty of hot pot venues boast a myriad of veggies, from leafy greens to mushrooms and tofu varieties, ensuring a balanced and delicious pot for all.

Sauce it Up: The dipping sauce station is where personalization shines. Mix and match from soy sauce, sesame paste, garlic, chili oil, and many more to create your perfect blend.

Popular Hot Spots: While new hot pot restaurants open regularly, some standout venues include 'Chubby Cattle' with its conveyor belt setup and 'Shabu-Shabu Paradise' for its cozy, authentic feel.

A Social Affair: What sets hot pot apart is its communal nature. Sharing a pot with friends or family, cooking together, and relishing different flavors makes it a bonding culinary adventure.

Budget to Luxe: Las Vegas caters to every budget. From all-you-can-eat hot pot joints to high-end venues serving wagyu beef and premium seafood, there's a price point for everyone.
Hot pot in Las Vegas is more than just a meal; it's an experience. With its meld of flavors, interactive cooking, and the sheer joy of sharing, diving into the city's hot pot scene is a must. Whether you're a local or just visiting, let the shimmering broth and fresh ingredients be a part of your Vegas story.