Malibù, often referred to as "The 'Bu" by locals, is a coastal city in Los Angeles County. Known for its stunning beaches, celebrity homes, and mountainous backdrop, Malibù offers a laid-back yet luxurious atmosphere, making it a popular spot for both relaxation and recreation.
City Guide: Malibù, California (2023)
Attractions in

Malibù
Malibù Beaches:

Zuma Beach: One of the most popular beaches, great for surfing, sunbathing, and volleyball.
El Matador Beach: A hidden gem with sea caves and rock formations, perfect for romantic picnics and sunset views.
Surfrider Beach: A hotspot for surfers, located next to the Malibu Pier.

Malibù Creek State Park: Great for hiking, rock climbing, and bird watching. It also offers historical sites from the old MAS*H TV series.
Adamson House & Malibù Lagoon Museum: A historic house showcasing Malibu tiles and offering views of Malibu Lagoon and the Pacific Ocean.
Pepperdine University: This stunning campus is worth a visit for its beautiful architecture and panoramic ocean views.
Malibù Wine Safaris: Embark on a safari-style tour through vineyards and meet exotic animals along the way.
Dining in

Malibù
Malibu Farm: Located on Malibu Pier, this eatery offers organic, locally-sourced dishes with a beachfront view.
Nobu Malibu: A celebrity favorite, offering exquisite Japanese cuisine and unparalleled ocean views.
Neptune's Net: A casual, iconic seafood spot on Pacific Coast Highway, famous for its fried fish and clam chowder.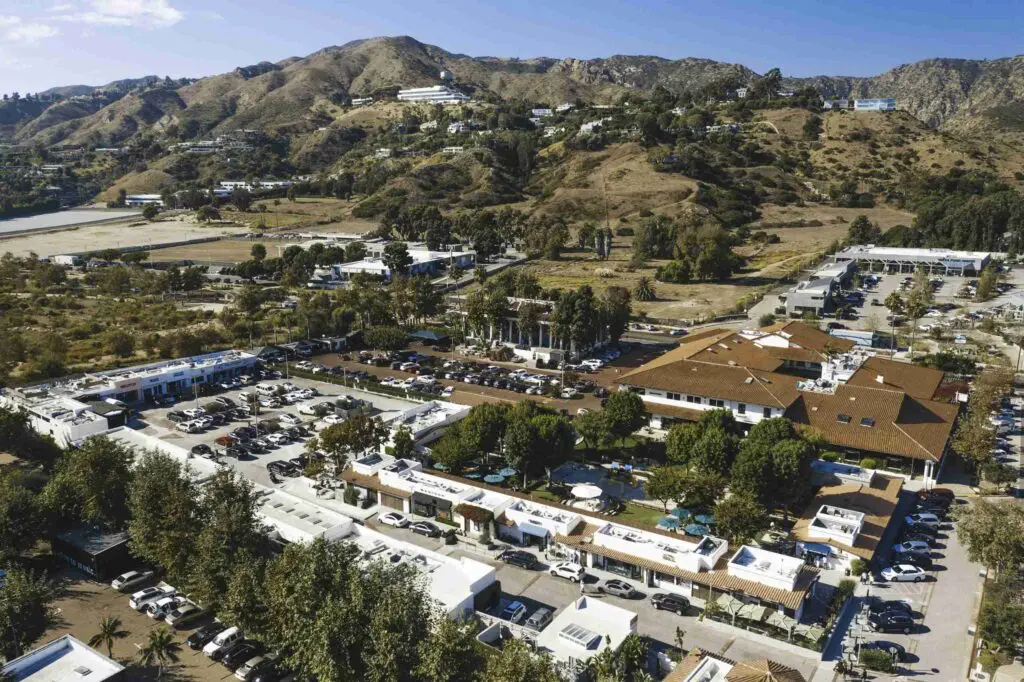 Shopping in

Malibù
Malibu Country Mart: A chic outdoor shopping center with upscale boutiques, art galleries, and eateries.
Trancas Country Market: Offers a collection of boutiques, restaurants, and services, located in the western part of Malibu.
Tips for Visitors:
Traffic: Malibu is famous for its traffic, especially on weekends. It's best to plan ahead or visit during off-peak hours.
Parking: Many beaches have paid parking lots. Street parking can be limited, so ensure you're not parking in residential permit zones.
Wildlife: It's not uncommon to see marine life like dolphins, seals, and even whales. Always respect wildlife from a safe distance.
Safety: While the ocean can be inviting, always be cautious of rip currents and heed lifeguard warnings.

History and Background:
Malibu's history is as deep and enriching as its ocean waters. Originally inhabited by the Chumash Native Americans for thousands of years, the name "Malibu" is believed to be a variation of the Chumash word "Humaliwo," meaning "the surf sounds loudly." Spanish explorers and missionaries later arrived in the 18th century, leading to the establishment of the Spanish land grant system.
The vast lands of Malibu, known as Rancho Malibu, changed hands multiple times before becoming the scenic coastal city we know today. In the 20th century, Malibu gained notoriety as a glamorous escape for Hollywood's elite and a haven for artists and surfers alike.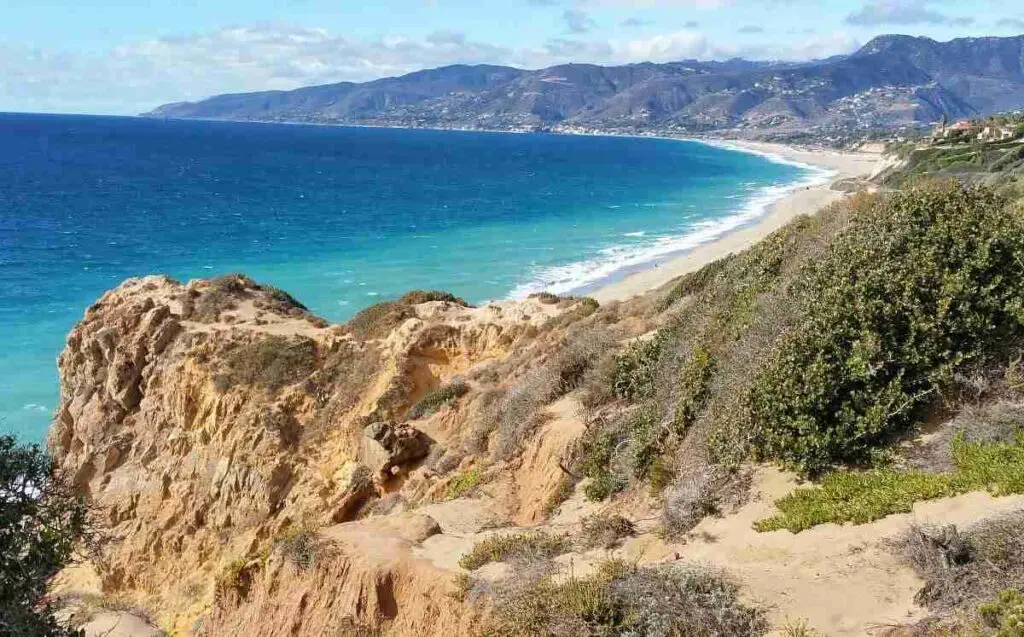 Natural Beauty and Outdoor Activities in Malibu:
Point Dume State Beach and Preserve: This spot offers headland trails with breathtaking vistas, rock climbing opportunities, and a beautiful sandy beach. It's also a popular spot for whale watching, especially between December and April.
Leo Carrillo State Park: With tide pools, sea caves, and coastal hiking trails, this park showcases the diverse marine life and geography of the Malibu coastline. It's a great place for camping, too.
Topanga State Park: Located in the cliffs and canyons of the Santa Monica Mountains, this park boasts 36 miles of trails, including the popular Eagle Rock trail.
Cultural Experiences:
Malibu Playhouse: A community-driven theater that showcases local talent in plays, musicals, and performances.
The Getty Villa: Located at the edge of Malibu, it's an educational center and museum dedicated to the arts and cultures of ancient Greece, Rome, and Etruria.
Wellness and Recreation:
Malibu has a thriving wellness scene, with many establishments offering yoga classes, spa services, and holistic treatments.
Sorenity Rocks Malibu: An enchanting crystal sanctuary where visitors can engage in meditation and healing sessions surrounded by giant geodes and powerful stones.
Malibu Beach Yoga: Offers beachfront yoga classes, allowing participants to practice asanas with the soothing sounds of waves crashing nearby.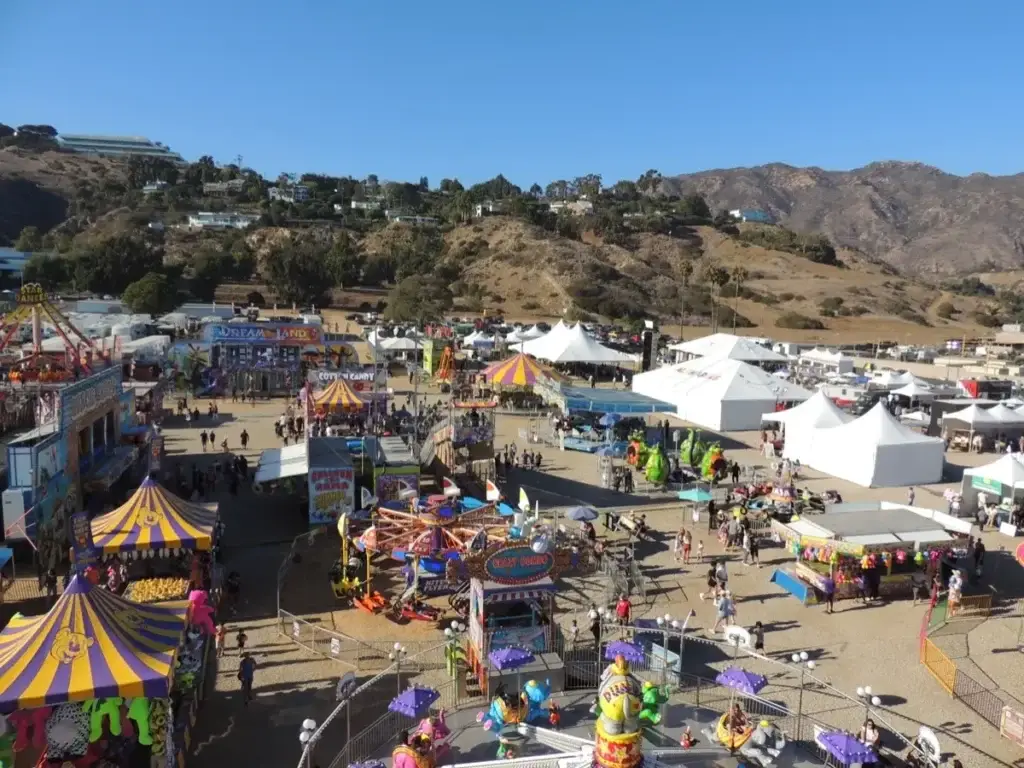 Local Events and Festivals:
Malibu Chili Cook-Off: Held annually on Labor Day weekend, this event includes a chili competition, carnival games, and live entertainment.
Malibu Film Festival: This event showcases both local and international films, providing a platform for emerging filmmakers to display their work.
Accommodations:
From luxurious resorts to cozy inns, Malibu has a range of accommodations to suit every traveler's needs.
The Surfrider Malibu: A boutique hotel that captures the essence of Malibu's surf culture. With its rooftop restaurant and bar, guests can enjoy panoramic views of Malibu Pier and the ocean.
Calamigos Guest Ranch and Beach Club: Spread over 250 acres in the heart of Malibu Wine Country, this resort offers luxury cabins, a private beach club, and various dining options.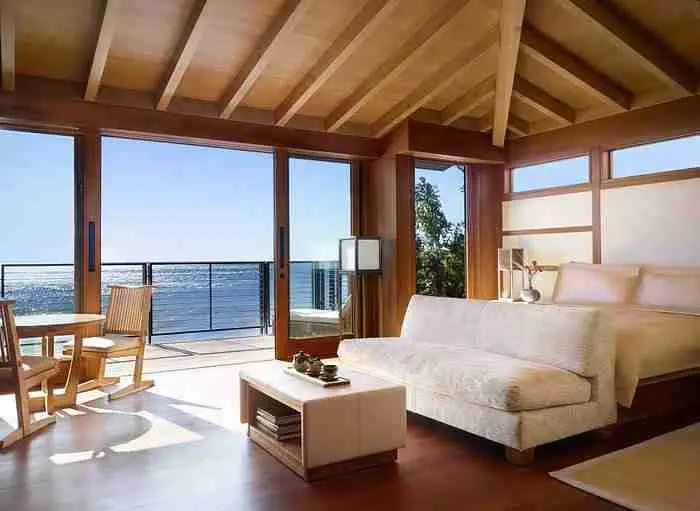 If you want to stay in luxury, visit the Nobu Ryokan, Malibu
Overview:
Nobu Ryokan, located on the illustrious Carbon Beach in Malibu, California, is a luxury hotel that marries the minimalist aesthetic of a traditional Japanese inn (or "ryokan") with the sophistication and service of modern Western hospitality. Drawing inspiration from the serene coastal locale and Japan's iconic ryokan hospitality, this hotel offers a tranquil and exclusive escape.
History and Concept:
The property that Nobu Ryokan occupies was once the 1950s-era Casa Malibu Inn. However, after its acquisition and transformation, it was reborn as a haven of luxury and calm. The transformation was led by the famed restaurateur Nobu Matsuhisa, in collaboration with Oracle billionaire Larry Ellison and Hollywood producer Meir Teper. Their goal was to recreate the intimacy and tranquility of a traditional Japanese ryokan while catering to an elite clientele.
Design and Ambiance:
The essence of the Nobu Ryokan is its design. It embraces natural elements, from teak woods to limestone, creating an ambiance of organic luxury. The 16-room inn is designed with a keen eye for detail:
Rooms: Each room, whether facing the ocean or the garden, exudes tranquility. Natural light is abundant, and traditional Japanese features like tatami mats, shoji screen doors, and soaking tubs are prevalent.
Gardens: Japanese gardens within the property, complete with serene water features and curated vegetation, enhance the overall sense of calm and peace.
Common Areas: The communal spaces are kept minimalistic, encouraging introspection and relaxation.
Amenities and Services:
Beyond the design, the services and amenities offered at Nobu Ryokan ensure an unparalleled guest experience.
Private Beach Access: The hotel offers direct access to Carbon Beach, known colloquially as "Billionaire's Beach," offering a private beach experience.
Nobu Malibu Dining: While the ryokan itself doesn't have a restaurant, guests are given priority reservations at the neighboring Nobu Malibu restaurant, known for its world-class Japanese-Peruvian fusion cuisine.
Wellness and Fitness: While emphasizing relaxation, the ryokan also caters to those looking for physical rejuvenation. Personal trainers, yoga instructors, and spa treatments can be arranged upon request.
Exclusive Experiences: The team at Nobu Ryokan curates bespoke experiences for guests, from private beach picnics to guided meditation sessions.
Nobu Ryokan is not just a place to stay; it's an experience. It's where East meets West, where the sounds of the Pacific Ocean lull you to sleep, and where luxury finds its most organic form. For those seeking an exclusive, serene escape amidst the buzz of Malibu, Nobu Ryokan promises an unforgettable stay.

Local Crafts and Goods:
Malibu Farmers Market: Held every Sunday, this market is a favorite among locals and visitors. It offers fresh produce, artisanal goods, and unique crafts from local vendors.
Malibu Beach Supply Co.: The go-to place for beach essentials, from surfboards to swimwear.
Community and Sustainability:
Malibu has always been at the forefront of environmental conservation, given its rich biodiversity.
Heal the Bay: An organization dedicated to making Southern California coastal waters safe, healthy, and clean. They often organize beach cleanups and awareness campaigns in Malibu.
Malibu Lagoon Restoration: Aimed at restoring and preserving the

Malibù

Lagoon ecosystem, which is a crucial habitat for many bird species and marine life.
Art and Artists:
Beyond the waves and luxurious lifestyles, it also has a flourishing arts scene. Several artists have called Malibu home, drawing inspiration from its scenic beauty.
The

Malibù

Arts Festival: Celebrated annually, this festival hosts more than 200 award-winning painters, sculptors, photographers, jewelers, and other unique artisans. Alongside the artwork, visitors can enjoy live music, culinary delights, and hands-on art projects.

Malibù

Art Association: Founded in the 1960s, this non-profit organization consists of artists and individuals dedicated to promoting art within the community. They hold exhibitions, workshops, and community projects throughout the year.
Adventure and Exploration:
For those looking to combine the thrill of adventure with natural beauty, there's plenty on offer.
Paddleboarding and Kayaking: Malibu's calm waters are perfect for paddleboarding and kayaking. Explorers can venture into hidden caves and get up close with marine life.
Horseback Riding: The canyons and trails offer serene horseback riding experiences. Companies like Malibu Riders provide guided tours that cater to both novice and experienced riders.
Tantalize Your Taste Buds:
While Malibu's beaches often steal the show, its culinary scene is just as impressive.
Malibu Seafood: A favorite among locals and tourists, this quaint seafood joint offers freshly caught fish paired with panoramic ocean views.
Geoffrey's Malibu: Offering Mediterranean-Californian cuisine, this upscale restaurant is known for its elegant ambiance and mesmerizing sunset views.
Malibu Wines: While not a restaurant, no culinary journey is complete without a trip to this vineyard. They offer wine tasting sessions accompanied by live music and events.
Architectural Wonders:
Architecture is a blend of beachside charm and modern luxury. Some notable mentions include:
The Hindu Temple: Nestled in the hills of Calabasas, this architectural marvel is dedicated to the god Venkateswara. It serves as a spiritual sanctuary and is open to visitors wanting to admire its intricate carvings.
The Wave House: Designed by architect Mario Romano, this house draws inspiration from the ocean waves and is a testament to contemporary architectural creativity.
Environmental Initiatives:
With its rich biodiversity, Malibu has a vested interest in environmental conservation.
Ban on Single-Use Plastics: Malibu became one of the first cities in California to ban single-use plastic straws, stirrers, and cutlery. This move paved the way for other cities to follow suit.
Sustainable: This community initiative aims at promoting sustainable practices, from water conservation to eco-friendly transportation.
Education and Learning:
Malibu is also home to some top-tier educational institutions and initiatives.
Malibu Library: Part of the Los Angeles County Library system, the Library offers more than just books. They regularly host workshops, speaker sessions, and community events.
Malibu Ocean Conservation Club: A student-run organization at Pepperdine University, this club focuses on marine conservation through beach clean-ups, educational programs, and research.
Local Legends and Folklore:
Every place has its stories, and it is no exception.
The Chumash Painted Cave: While not directly in Malibu, this nearby historical site offers a glimpse into the spiritual lives of the Chumash people, with cave walls adorned with ancient rock art.
The Tale of Neptune's Net: Many locals and visitors swear by the sightings of mysterious figures around Neptune's Net, a popular seafood joint. Some say it's the spirit of old surfers, while others believe they're just tales spun by imaginative patrons.
The People of

Malibù

:
More than its scenic locales and opulent homes, it's the people of Malibu that bring life to the city.
Community Spirit: Whether it's the rapid response to wildfires, beach clean-up drives, or fundraising events, the sense of community in Malibu is strong. Locals rally together in times of need, reflecting the resilient spirit of the city.
Celebrity Residents: Over the years, Malibu has been home to many celebrities, from actors and musicians to renowned authors. While some seek Malibu for its privacy, others actively participate in community events and local charities.
Final Thoughts:
From its rich history and cultural prominence to its emphasis on sustainability and community, it is more than just its famous beaches and celebrity homes. It's a place where nature and civilization intertwine gracefully, creating an ambiance that is both tranquil and invigorating. Whether you're a thrill-seeker looking to ride the waves, a nature enthusiast eager to explore the trails, or a history buff wanting to dive into the past, it beckons with open arms. Come and be enchanted by its charm.
Malibu is a diverse mix of natural beauty, luxury living, and bohemian vibes. Whether you're hiking up the canyons, surfing the waves, or dining with a view of the Pacific, Malibu promises an experience like no other. Enjoy your visit!