If you're seeking a luxurious getaway that combines the charm of Central America with the allure of the Pacific coast, El Salvador has a lot to offer. From opulent beachfront resorts to urban sanctuaries, El Salvador's luxury hotels cater to travelers with a taste for the finer things in life. In this comprehensive guide, we'll delve into the best luxury hotels in El Salvador, especially focusing on luxury beach hotels. Additionally, we'll answer some frequently asked questions to help you plan your perfect stay at luxury hotels in El Salvador.
Discover the Best Luxury Hotels in El Salvador
El Salvador, often referred to as the "Land of Volcanoes," boasts stunning landscapes, from pristine beaches along the Pacific coast to lush mountain retreats. For travelers seeking a lavish escape, the following luxury hotels are the epitome of comfort, class, and opulence.
Las Flores Beach Resort – A Hidden Paradise
Las Flores Beach Resort is an exclusive sanctuary nestled in El Cuco, El Salvador. With only nine beautifully designed oceanfront villas, this intimate resort offers personalized service and breathtaking views. Whether you're catching waves or lounging by the pool, Las Flores Beach Resort promises an unforgettable beachfront experience.
The Real InterContinental San Salvador – Urban Elegance
For those who prefer cityscapes to seascapes, The Real InterContinental San Salvador is the ultimate choice. This upscale hotel in the heart of San Salvador offers refined luxury, including gourmet dining options, a spa, and spacious rooms with stunning city views. It's the ideal base for exploring the nicest parts of San Salvador.
Boca Olas Resort Villas
Nestled along the Rio Grande as it meets the Pacific Ocean, our boutique hotel boasts 22 beautifully designed rooms. From contemporary villas to deluxe waterfront junior suites, each room offers stunning ocean views of the renowned La Bocana surf break, just a quick 150-yard stroll away. Our six modern villas come fully equipped with a kitchen, a spacious living area, a separate bedroom, a closet with a safe, and a terrace furnished with patio seating. Everything you need for an unforgettable beach vacation in El Salvador. (1, 2, 3, 4, 5)
Hotel Los Farallones
Nestled away from the city's clamor, Hotel Los Farallones stands as the premier choice for those seeking respite, enveloped in an atmosphere of relaxation and tranquility. This tropical paradise offers an unforgettable experience where every guest's needs are thoughtfully catered to.
The hotel takes pride in prioritizing guest comfort. Each room has been meticulously designed to meet the diverse needs of its visitors. The staff's unwavering commitment to making your stay extraordinary sets Hotel Los Farallones apart.
Royal Decameron Salinitas
Located in a sprawling beachfront complex, this upscale all-inclusive hotel is a mere 10 km away from Los Cobanos Beach and just 13 km from the vibrant Acajutla town center.
Relaxing Views and Comfortable Rooms
The hotel offers a variety of colorful and laid-back rooms, each featuring balconies or terraces that overlook lush gardens or inviting pool areas. Inside, you'll find the rooms equipped with TVs, comfortable sofas, and convenient tea and coffee makers.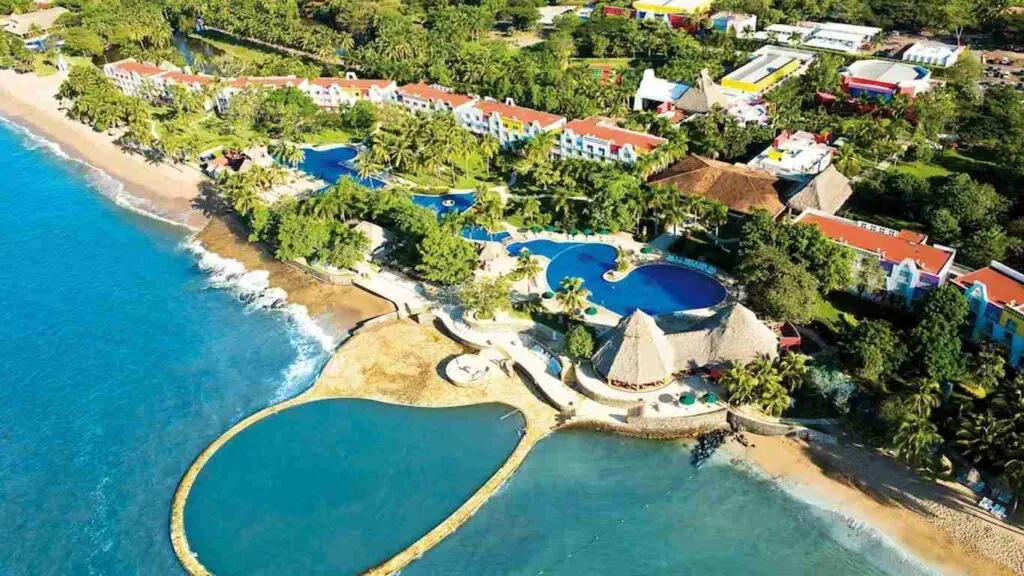 All-Inclusive Perks
Your stay here comes with a wealth of complimentary offerings, including buffets, snacks, and local alcoholic beverages. For those looking to make a splash, water sports like kayaking and paddle boating are also on the house. And that's not all; the hotel boasts 2 tennis courts, 4 freshwater pools, a saltwater pool, a fitness center, and a spa for ultimate relaxation.
FAQ for Luxury Hotels in El Salvador
What is the Nicest Part of San Salvador?
San Salvador, the capital city of El Salvador, has several attractive neighborhoods. The Zona Rosa district is often considered the nicest part of San Salvador. It's known for its upscale restaurants, shopping, and vibrant nightlife. Many luxury hotels are also located in this area, making it a convenient and luxurious place to stay.
What is the Most Luxury Hotel Chain in El Salvador?
The most prominent luxury hotel chain in El Salvador is the InterContinental Hotels Group (IHG), with its flagship property, The Real InterContinental San Salvador. IHG is renowned for its commitment to excellence in hospitality, making it a preferred choice for travelers seeking luxury accommodations in the country.
Are Things Expensive in El Salvador?
El Salvador is generally an affordable destination compared to many other countries. While luxury hotels and upscale dining can be relatively pricey, the overall cost of living and travel expenses, including transportation and dining at local eateries, is lower than in many Western countries. Travelers can enjoy a mix of luxury and affordability in this beautiful Central American nation.
Luxury Hotels in El Salvador (Beach)
Tortuga Village – Seaside Serenity
Tortuga Village is a coastal gem that combines the charm of a private villa with the amenities of a luxury resort. Located in El Zonte, this beachfront haven offers direct access to the Pacific Ocean and is a paradise for surfers. The spacious villas are perfect for families or couples looking for a romantic escape.
Royal Decameron Salinitas – All-Inclusive Luxury
For an all-inclusive beachfront experience, Royal Decameron Salinitas in Sonsonate is a top choice. This expansive resort features multiple swimming pools, a golf course, and a variety of dining options. With a beautiful beach right at your doorstep, it's the ideal place to unwind and enjoy the Salvadoran sun.

El Tunco Village – Surfer's Paradise
El Tunco Village in El Tunco offers luxury with a bohemian twist. This boutique hotel caters to the surfer crowd and those seeking a laid-back beach vibe. With its colorful décor and proximity to surf breaks, it's a great choice for adventure seekers looking for a luxurious yet relaxed experience.
Exploring El Salvador's Luxury Offerings
El Salvador's luxury hotels provide a gateway to exploring the country's natural beauty, vibrant culture, and warm hospitality. Whether you prefer the serenity of a beachfront escape or the sophistication of a city stay, there's a luxury hotel in El Salvador that's perfect for you.
In conclusion, El Salvador offers a captivating blend of natural beauty and cultural richness. The best luxury hotels in El Salvador, whether nestled by the beach or in the heart of the city, provide an indulgent gateway to explore this hidden gem of a destination. Whether you're a nature lover, a city explorer, or a beachcomber, El Salvador's luxury hotels promise an unforgettable experience. Plan your next luxurious escape to this enchanting country and discover its many treasures. Your journey to the best luxury hotels in El Salvador awaits.