Bella Thorne is a young American actress, model and singer. She was born in Pembroke Pines, Florida, the United States, on October 8, 1997. She is currently 25 years old. She has been in the entertainment business since she was a child.
Before making her big break at Disney, she spent time on television commercials, print ads, and music videos. In 2010, Thorne got her first role as a series regular on the Disney Channel sitcom Shake It Up at the age of fourteen.
"I think everything about my life is magical. I've struggled, and against most odds, I'm truly having the experience of living my dreams." says Bella.
Bella Thorne, photographed by David Christopher Lee.
Her performance earned her nominations for several Young Artist Awards. She appeared in dozens of television shows, TV movies, and feature films. In 2017, Thorne starred in a string of independent films that received critical acclaim. She's also ventured into music and modeling, with several singles and photoshoots under her belt.
"I believe that anyone can become better,if you put in the effort." explains Bella.
Early Life and Family
Bella Thorne was born in Pembroke Pines, Florida. Her father, of Cuban descent, died in 2007 when she was ten years old in a tragic accident. Her mother, Tamara Thorne, raised her with her four siblings, who are also actors. Bella Thorne made her debut in Stuck on You, which led to many other credits.
Bella was born on October 8, 1997 as Annabella Avery Thorne. Her mother, Tamara Thorne, was an actress herself and her father, Reinaldo, died when she was nine years old. Her sister Dani (Danielle), an actress, is four years older than Bella. Growing up, she also had three siblings: Remy (born 1995), Kaili (born 1992), and Danni (born 1993). Thorne is of Cuban, Irish and Italian descent.
Thorne was diagnosed with dyslexia; she didn't learn how to read until she was in the second grade. Thorne began auditioning for roles and appearing as guest stars in television shows such as "Unfabulous," "Dirty Sexy Money," and "Big Love."
Career Life
Bella is a singer, writer, model and an American actress who is taking her career with passion and ambition. She began her career appearing in minor television roles before gaining prominence for her role as Ruthy Spivey in the Disney Channel film "Shake It Up" (2010–2013). Bella became interested in acting early after watching movies with her sister Dani Thorne. As a result of this interest, she started taking acting classes at seven.
"Dancing inspires my music. Having your girlfriends all together and just being free and happy." says Bella.
When she turned 13 years old, she attended an open casting call for Disney's Shake It Up! which led to her getting the role of CeCe Jones on the popular TV show. In 2013, Bella had left Shake It Up after three seasons because she wanted to pursue other projects such as music and acting.
Thorne made her film debut in Blended (2013). She co-starred in Alexander and the Terrible, Horrible, No Good, Very Bad Day (2014) and The DUFF (2015). She had a supporting role in If I Stay (2014), followed by lead roles in Amityville: The Awakening (2016) and Alexander: The Last Hero (2016). Thorne appeared as the star in Midnight sun (2017), which grossed $27.4 million worldwide.
Thorne wrote her first book Autumn Falls (2014), and released three novels in 2015–2016 under the same pen name. She wrote the screenplay for the film. Thorne recently appeared in the Netflix films Assassination Nation (2017) and The Babysitter: Killer Queen (2020), as well as the movie Chick Fight (2020) and Girl (2020). Her upcoming films include Masquerade (2021), Time Is Up (2021), and Infamous (2021).
Personal Life
Bella Thorne dated Tristan Klier from November 2011 until August 2014. They split up after almost three years together. Bella also dated actor Gregg Sulkin from 2015 to August 2016. Bella Thorne has an estimated net worth of more than $5 million. She earns money from her various acting projects. Apart from that, she deals with brands like Neutrogena from her books, albums, fashion lines, and endorsements. Thorne's home is located in Topanga, Calif.
In 2016, Bella Thorne came out as bisexual on Twitter before she started dating rapper Lil Peep. They dated for a few months before breaking up in August same year. Bella Thorne has been open about her sexuality ever since publicly coming out as bisexual in 2016 and has expressed interest in dating men or women equally. In July 2019, Bella Thorne officially came out as pansexual, which means that she can be attracted to all genders, including transgender people, nonbinary people and agender people.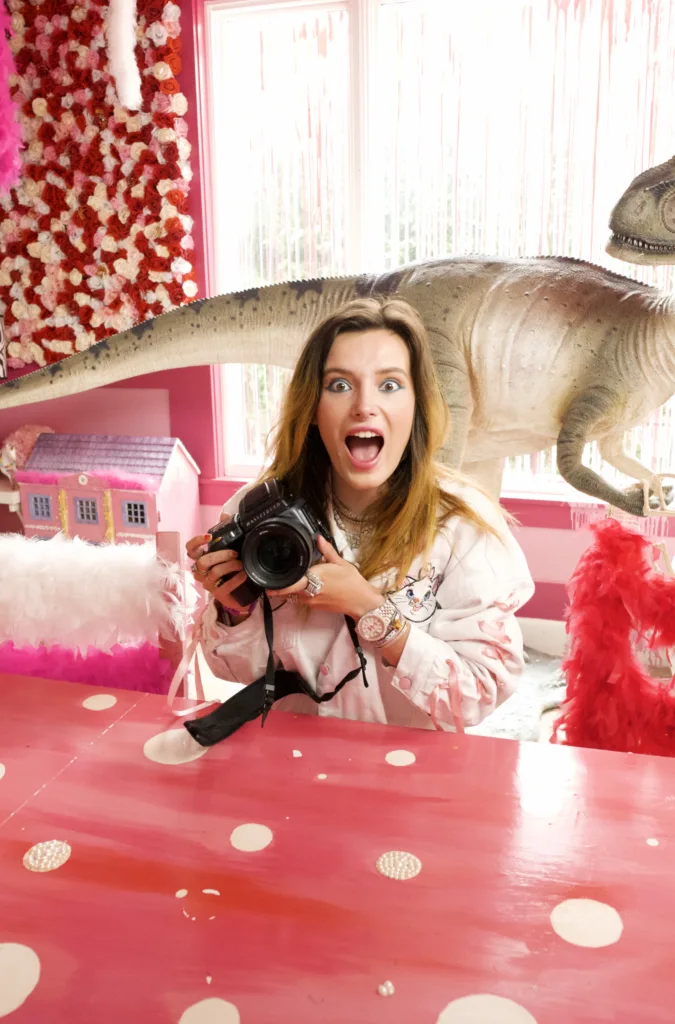 Bella Thorne, photographed by David Christopher Lee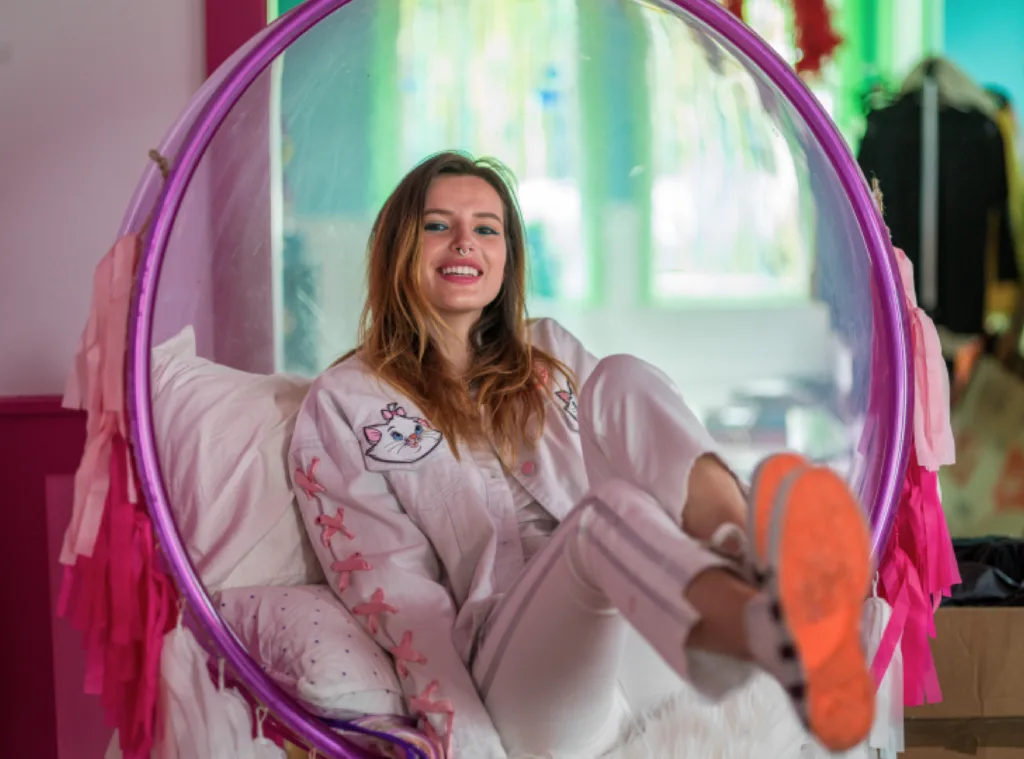 Bella Thorne, photographed by David Christopher Lee
Bella Thorne, photographed by David Christopher Lee