Laguna Beach, a picturesque coastal city in California, is famous not just for its sandy shores and surf-worthy waves but also for its boutique hotels that offer a unique blend of luxury, charm, and character. Here, we'll dive into some of the top boutique hotels Laguna Beach that create an unforgettable experience.
Boutique Hotels Laguna Beach
1. The Inn at Laguna Beach:
Perched right above the main beach, this hotel offers mesmerizing ocean views. A short walk away from local shops, galleries, and restaurants, its convenient location is perfect for travelers keen on experiencing the vibrant local culture. The rooms are designed with a subtle coastal theme, ensuring that your stay feels like an extension of the beach.
2. Hotel Joaquin:
A petite sanctuary nestled among the hills, Hotel Joaquin boasts a curated experience for its guests. With a vintage yet modern vibe, every room is a personal oasis, designed to make your stay relaxing and rejuvenating. The onsite restaurant offers gourmet dishes, making it hard to leave the premises.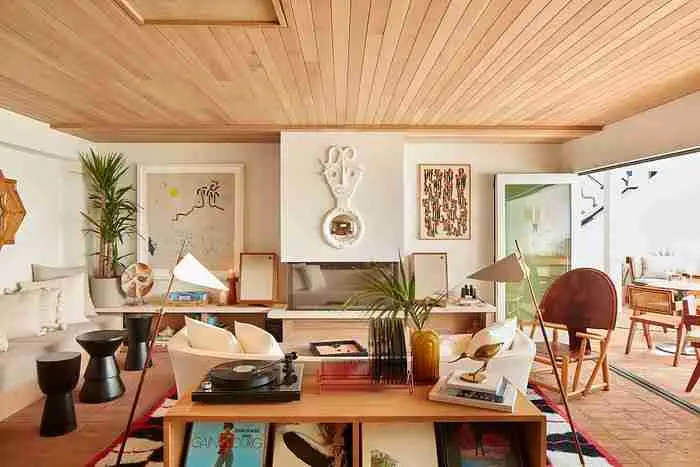 3. Laguna Beach House:
True to its name, this hotel embraces the beach house spirit. Rooms decked in surf-themed décor, complete with modern amenities, ensure a comfortable stay. The pool area is a notable highlight, providing a serene spot to unwind after a day at the beach.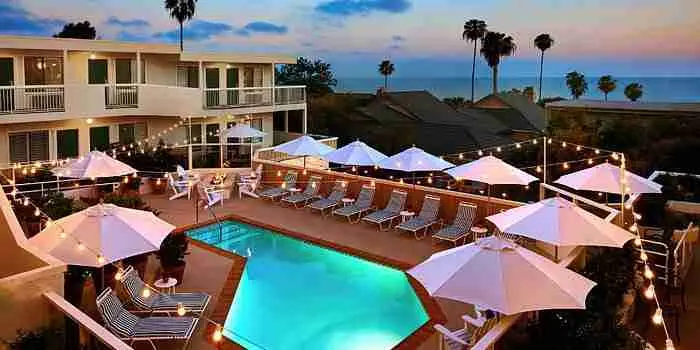 4. SCP Seven4One:
Showcasing a blend of modern design and environmental responsibility, SCP Seven4One is a hotel with a mission. Every stay contributes to their social and environmental initiatives, making it a favorite for eco-conscious travelers. It's not just about giving back; the rooms and amenities promise a luxurious stay.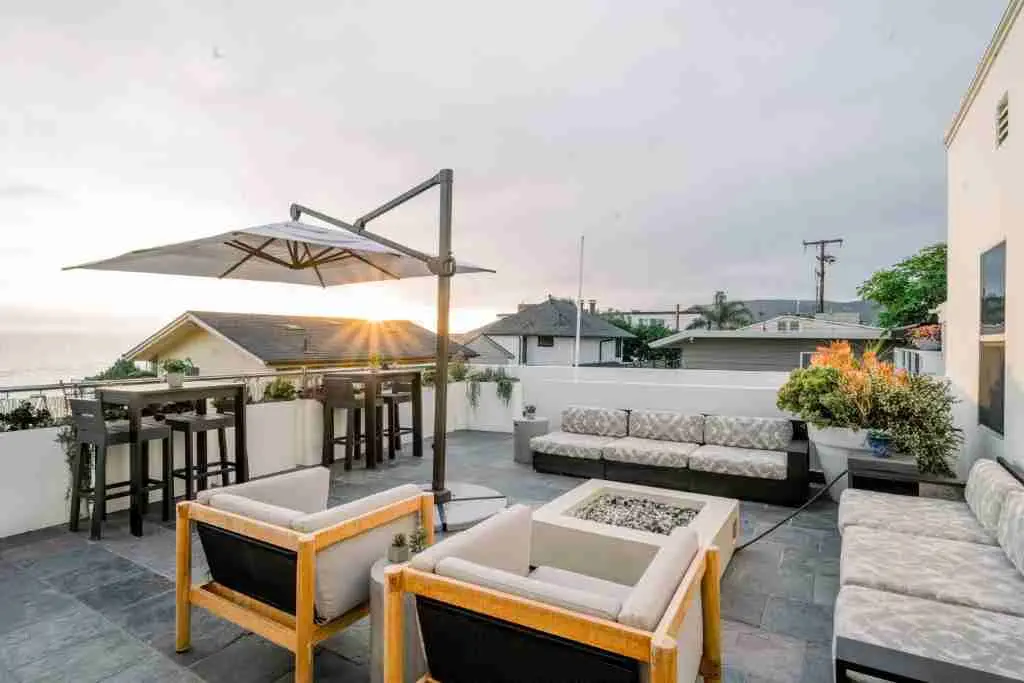 5. Crystal Cove Beach Cottages:
Want a touch of nostalgia? These vintage cottages offer a throwback to the 1930s and '40s. Set within the Crystal Cove State Park, the cottages transport guests to a simpler time while ensuring modern comforts. It's a beachside retreat with history and charm.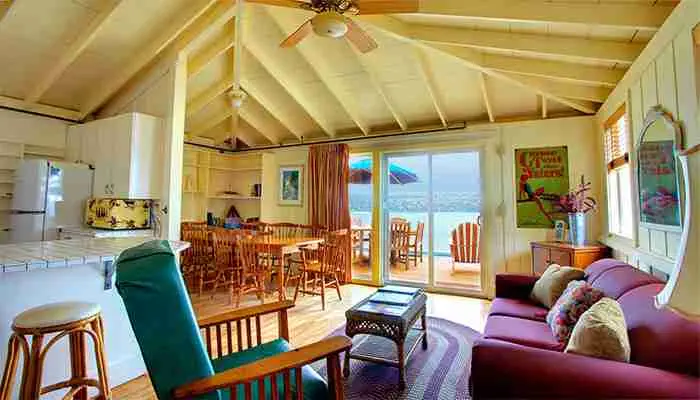 6. The Ranch at Laguna Beach:
Nestled in a scenic canyon, The Ranch provides a unique blend of beach resort and tranquil retreat. The sprawling property features golf courses, spa facilities, and a range of activities tailored for both relaxation and adventure. It's a haven for those looking to escape the hustle and bustle.
7. Casa Laguna Hotel and Spa:
A historic property that has catered to guests since the 1920s, Casa Laguna offers a Spanish-style aesthetic combined with modern luxury. The spa treatments are a major draw, ensuring that guests leave feeling pampered and refreshed.
8. Surf and Sand Resort:
As the name suggests, this resort is all about embracing the ocean. With rooms offering panoramic sea views and the sound of crashing waves as a lullaby, it's a beach lover's dream. The upscale amenities, combined with its beachfront location, make it a top choice for travelers.
9. Laguna Riviera:
A family-owned property, the Laguna Riviera promises a homely experience. Warm and welcoming, this hotel offers a range of room choices, from cozy suites to spacious beachfront rooms. With its private stretch of beach and an indoor pool, relaxation is a guarantee.
In Conclusion: Boutique Hotels Laguna Beach
Laguna Beach is not just a destination; it's an experience. The boutique hotels highlighted above each offer a unique perspective of this coastal paradise. Whether you're an avid surfer, a history buff, an eco-warrior, or someone just looking to relax by the beach, there's a boutique hotel in Laguna Beach ready to make your stay memorable.
While the city's natural beauty is undeniable, these hotels add a touch of luxury and charm to the experience. When planning your next trip, consider staying at one (or more) of these establishments to truly soak in the essence of Laguna Beach. Safe travels!
Certainly! Let's delve deeper into what makes each of these boutique hotels in Laguna Beach stand out, emphasizing on their unique attributes, the ambiance they offer, and what you can expect from a stay at each location.
The Inn at Laguna Beach:
A Closer Look
Located at the heart of Laguna Beach, this hotel stands out for its panoramic sea views. Picture waking up to the rhythmic sound of waves and watching the sunset from your balcony. Beyond its prime location, the hotel's rooftop lounge is a delightful surprise. Guests often mention the welcoming staff and tailored services that make their stay personal and memorable.
Laguna Beach House:
Surf's Up!
Guests who are enthusiastic about surfing will find a special allure in Laguna Beach House. Not only do they offer surfboard rentals, but they also have fire pits for those post-surf session stories and relaxation. It's not just a place to stay; it's a community that celebrates the surf culture.
SCP Seven4One:
Eco-Conscious Elegance
Today, more than ever, there's a growing emphasis on sustainable travel. SCP Seven4One resonates with this sentiment profoundly. They've adopted eco-friendly practices, from energy-efficient appliances to repurposed furniture. Guests can feel good about their stay here, knowing they're treading lightly on the environment.
The Ranch at Laguna Beach:
More Than Meets the Eye
Set amidst 87 acres, The Ranch isn't just a hotel; it's a destination in itself. For the golfing enthusiasts, the 9-hole golf course is a treat. And for those keen on exploring, the guided canyon tours promise a blend of nature and history. Their farm-to-table dining experience is worth mentioning, serving dishes made from locally sourced ingredients.
Casa Laguna Hotel and Spa:
Spanish Charm Meets Modern Luxury
From its terracotta tiles to its serene gardens, Casa Laguna oozes Spanish charm. Guests can unwind in the heated pool or indulge in a therapeutic spa session. The in-house restaurant, with its gourmet dishes, adds another layer of luxury to the experience.
Why Laguna Beach Stands Out
Laguna Beach isn't just about its natural beauty. It's about the experiences that its boutique hotels offer. Each hotel has a unique story, a distinct vibe, and a promise to make your stay unforgettable. Whether you're sipping a cocktail at Hotel Joaquin's bar, golfing at The Ranch, or exploring the vintage charm of Crystal Cove Beach Cottages, you're not just staying at a hotel; you're living an experience.
So, the next time you're planning a coastal getaway, remember that Laguna Beach is not just a destination on the map; it's a mosaic of experiences, waiting to be explored. Choose your boutique hotel, pack your bags, and get ready for memories that will last a lifetime. Safe and happy travels!